To me, the best souvenir is not some pricey handicraft but rather a passport stamp. Last March, I was really remorseful when I found out that a special visa to Shenzhen from Hong Kong would have only cost 120HKD. I would have gotten a China passport stamp. Bummer.
Passport stamps are documentary evidence that one has at least stepped foot into a country. But they're also mystically fascinating to me that I find myself staring at my passport and its small number of stamps. In such occasions I tell myself that I must add more, so when my recent trip to Singapore came up, I was already determined I must cross that Woodlands border to Johor Bahru in West Malaysia. Read more...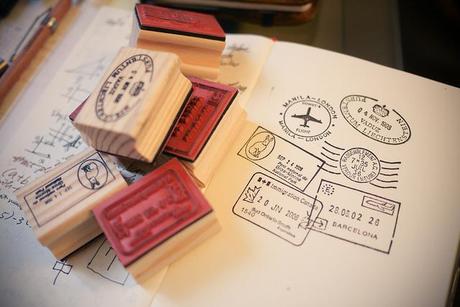 Photo credit: Patrick Ng
I admit that it wasn't part of my official itinerary, and no one really knew that I was crossing the border. If my mom is reading this (and I know she will eventually), I hope she would forgive me. I wouldn't have called myself "the lost boy" if I don't get lost once in a while.
Horror stories of petty street crimes in Johor Bahru didn't deter me at all, but what made me anxious a little was passing through the immigration desks of two countries two times each. Filipinos sadly are subject to purported stereotyping and "random" checks because of instances of drug and human trafficking. Likewise, some of our kababayans (fellowmen) desperately overstay in other countries to work illegally.
Beforehand, I hinted to my uncle's girlfriend, Tita Shei, if she has ever gone to Johor Bahru. She has, and she warned me that illegal Filipina sex workers use the border to extend their visit passes to work in Singapore. While the idea of being questioned and/or held off frightened me a little, I comforted myself by saying I shouldn't be afraid as I'm not doing anything wrong. And besides, I don't have the goods to be a sex worker.
I got up early in the morning from my room at the Grand Mercure Roxy, and while having breakfast, thoughts of being deported with my stuff left at my hotel room kept swirling in my head. Talk about paranoia for breakfast!
And so I took the hotel's free shuttle bus to Paya Lebar MRT station and thus began two long train rides to Woodlands station where a stop for Bus 160 is located. Bus 160 was about to bring me to Kotaraya Bus Terminal in Johor Bahru. Excited? Heck, I was!
At the Singapore side of the border, I got my passport stamped. In essence, I have departed Singapore, so if the Malaysian border denies me entry, I do not know what happens. They won't deport me back to Singapore to catch my next day flight to Manila, will they?
Anyway, I boarded the bus to the Malaysian side of the border or the other side of the causeway, and I feigned confidence as I walked up to the immigration counter. The agent behind the counter asked, "Your white card?" You see, the thing with me feigning confidence is that while I seem confident, I actually tremble when I speak. And so I manage to murmur in a shaking voice, "I left it with the Singapore immigration." Realizing my mistake, I immediately said, "Oh, my arrival card? Sorry, I will fill up one now." I walked fast away from the counter and found the desk for filling up the white cards.
Despite this little booboo, I managed to go past the Malaysian border without incident. I explored Johor Bahru for only a mere couple of hours, since I had to go back to Singapore since I'm meeting Ron after lunch. I will chronicle my Johor Bahru expedition in detail soon.
I boarded the SMRT bus back to Woodlands. And yes, there was paranoia all over again as I faced the Singapore immigration agent. Just when he was having trouble scanning my passport and I thought could be deported because of it, he thankfully stamped my passport.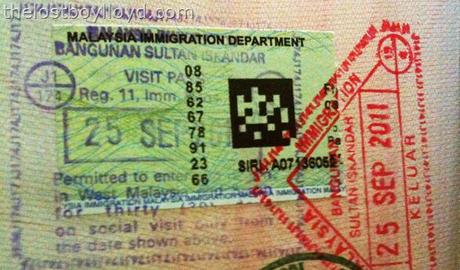 I know this won't be the first time I will have to deal with immigration agents, and this was good practice. What made it special in a way was that Mom and Dad weren't there, therefore I proved to myself further that I could travel in different countries independently. All those other countries should wait until I get my passport stamps from them!