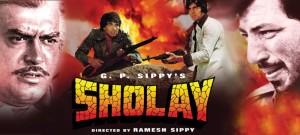 Movie: Sholay 3D
Director: Ramesh Sippy
Cast: Amitabh Bachchan, Dharmendra, Sanjeev Kumar, Amjad Khan, Jaya Bhaduri and Hema Malini.
Release Date: Jan 3, 2014
Naam hi kaafi hain. Don't miss it in cinemas. I have already watched it so many times but i'll definitely watch it first-day-first-show when it hits the cinemas in January. I can never stop liking this ultimate classic.