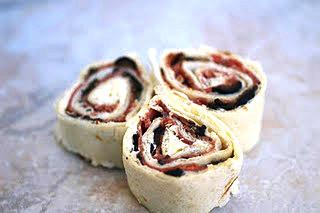 Here is another great recipe for game day.
There are two things that I adore about this recipe.
You can make it ahead.
It does not need to be heated.
Keep in mind your filling can be just about anything.
Thats right!
If you want a vegetarian roll up, then omit the meat.
What, you are not a fan of olives?
Not a problem!
Well then use cucumbers.
I love that it is so versatile!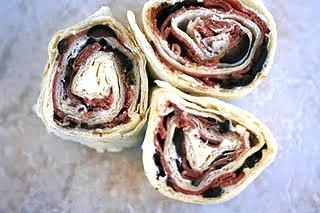 Tortilla Pinwheels
8 ounces cream cheese (softened)
Flour tortilla (10 medium or 8 large)
1 package luncheon pastrami sliced very thin
1 small jar of chopped green olives with pimento
1 small can chopped black olives
1 envelope Hidden Valley Ranch Dressing
Whip cream cheese with ranch dressing. Spread mixture on tortilla, spreading to cover tortilla to the edge on one side to hold rollup together. Place 2 slices of pastrami on each regular size tortilla ( 3 slices of pastrami on large tortilla) Top with 2 teaspoons of black and green olive mixture on top of pastrami. Roll up the tortilla towards the edge with cheese to seal, wrap in plastic wrap. When ready to serve, slice off the end with no ingredients, then continue to slice about 1/2 inch slices and arrange on platter. Can store in refrigerator up to 3 days.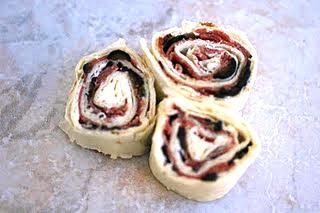 Peace be with you,Veronica