Propolis is a glue like substance, made by bees, to coat the beehive. This helps the beehive from external environment. Propolis is also known for its antibacterial, anti-fungal and non-inflammatory properties. Ancient Greeks have used this propolis, to heal wounds, and for some dental infections. Because of its anti fungal and anti bacterial properties, it is being widely use in acne treatments, now a days.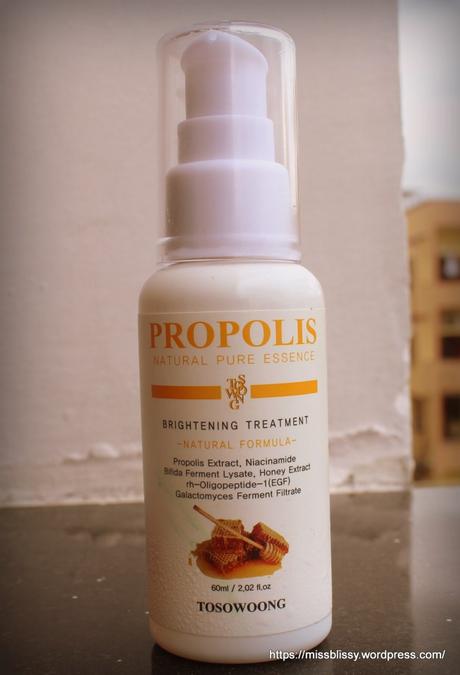 Tosowoong Propolis Natural Pure Essence($16 for 60ml) has 75% propolis extract and claims to brighten the dull, and sensitive skin. It also claims to have a Patent Ingredient called V.Berry Complex, which contains extracts of 10 Berry Fruit extracts, which works as an anti-oxidant. This essence also contains rh-Oligopeptide-1, which is an EGF(Epidermal Growth Factor). EGF increases skin cell regeneration. It helps to increase collagen production, and elastin in the skin, and thus helps in reversing ageing signs. Since, I have acne problem, and I am also looking for a brightening serum in my routine, I thought that this might be a ideal choice to achieve both the results. And let's see how it fared to me.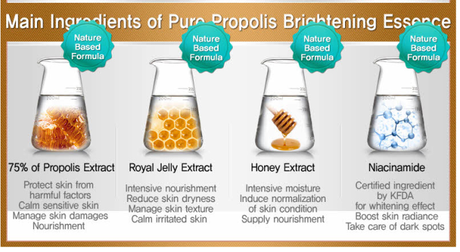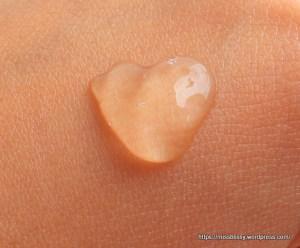 The essence comes in a white colored plastic bottle with a pump dispenser. It has the texture of gel, rather than watery, and has no fragrance. I usually use 2 pumps of essence for my entire face, which I find adequate. Using more than 2 pumps, made my face feel a bit sticky. It absorbs quickly into the skin and made my skin well moisturized. The major, and best thing I have absorbed in my skin is, as soon as I applied the essence, the redness on my skin, around my nose, and mouth, seems to be reduced. It also helped my inflamed acne heal quickly. On the package, it was written as a "Brightening Treatment", but, I didn't find any change in my overall skin tone after one and half month of usage. Since Niacinamide is placed in fourth place, in the ingredients list, I assume that it will definitely brighten your skin tone in long term use. So, I am not going to judge its claim about brightness of skin. It has definitely helped in healing my acne, and made my skin smooth.
Please note that, if you are allergic to bee products, better stay away from this, as it contains propolis as main ingredient.
Pros:
So, will I buy this essence again? May be, yes. But,there are lot of products that I want to try, which contains propolis. So, I will keep this product in my mind, and will buy this when I am on budget. 😉
Cons:
Contains 75% of propolis extract.
Hydrates skin.
Heals Acne
Reduces redness on skin
Fragrance free
Contains Niacinamide
Might feel sticky if use more than 2 pumps.
Not suitable, if your skin is allergic to bee products.
**Disclaimer: All products reviewed/mentioned here are 100% purchased with my own money, and the opinions are entirely my own**