11/10/2011 – by Cynthia Wright
Buddy and Pedro, two African penguins that have received unwarranted attention due to their overly close relationship. The couple who entered the zoo around the same time, quickly paired off and left their bachelor flock in the dust.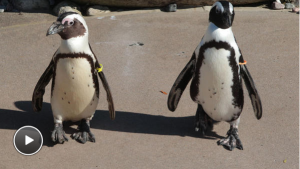 So in LOVE!
The two have also exhibited mating behaviors in the form of preening each other, defending their mutual territory, performing mating calls and of course, going off alone together. While Buddy and Pedro aren't the first two penguins that were more enamored with their male partnerships than their female ones, Buddy and Pedro's relationship has the Toronto zoo feeling quite uneasy. Especially since Buddy and Pedro come from great stock and need to reproduce. So, in order to make that happen – the zoo plans to take nature into their own hands by separating the dapper duo for breeding purposes.
We just need to have them meet some girls and do their thing," Tom Mason, one of the zoo's curators, told CTV news.
Although, the zoo keepers discuss the blossoming relationship among themselves, it does cause an issue due to the African penguin population being currently on the decline. While the penguins are native to South Africa, their numbers have dropped drastically and many feel it'll be hard for them to sustain themselves at this rate.
So much for being liberal when it comes to animal mating preferences.