Today's post is about a new Christian artist with a new CD – it's Tori Kelly with her new album, Hiding Place.  I was going to start out by telling everyone that I hadn't heard of Tori Kelly before, but the truth is, I have heard her voice and have seen her on television commercials for Nationwide Insurance! I couldn't even believe it, so when I searched her name on the internet, the commercials came up, so it's true! Her voice is beautiful on those commercials and even more so on this new album!  You may know her as a fairly new pop-artist whose debut album "Unbreakable Smile" was released in 2015. You may remember her as the voice of "Meena the elephant" on the animated film SING. But, what you may not know is that TORI KELLY has had a lifelong passion for gospel music.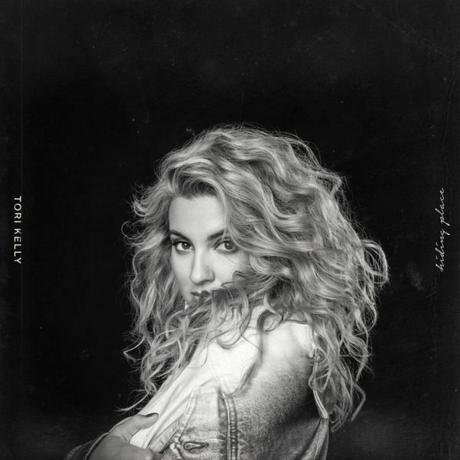 Anyway, back to Hiding Places……While working on the follow-up to her debut album Unbreakable Smile—a 2015 release that premiered at #2 on the Billboard 200—Tori Kelly felt compelled to include a track that honored her lifelong passion for gospel music. With the help of her manager, Scooter Braun, the L.A.-based singer/songwriter soon connected with Kirk Franklin, a 12-time Grammy Award-winning gospel artist and one of Kelly's musical idols. "I flew to Dallas and Kirk showed me a few songs he'd written, and I fell in love with all of them," says Kelly, a 2016 Grammy Award nominee for Best New Artist. "Next thing you know, one song turned into us doing a whole album together. It just took on a life of its own."
---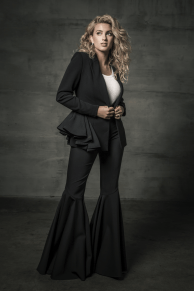 Hiding Place by Tori Kelly
Release Date:  September 14, 2018
This L.A.-based singer/songwriter honors her deepest musical passion and delivers an R&B infused, infectiously melodic take on classic gospel album. She has teamed up with Kirk Franklin on this one, and the first single features him.
Tori Kelly was the 2016 Grammy Award nominee for Best New Artist.
Pick Up A Copy HERE
---
Album Songs:
Masterpiece [feat. Lecrae]

Help Us To Love [feat. The HamilTones]

Sunday
Just As Sure [feat. Jonathan McReynolds]
Psalm 42
Questions
Never Alone [feat. Kirk Franklin]
Soul's Anthem (It Is Well)
With its R&B-infused, deeply melodic take on classic gospel, Hiding Place offers up what Franklin refers to as "hope-pop"—a classification that fully resonates with Kelly. "One of the things I want for this album is for people to feel uplifted and encouraged when they listen," she says. "I want them to know that, no matter what they're going through, there's a God who loves them so much and so unconditionally, and there's always a reason to feel hope. That's what I really believe in, and I want everyone out there to hear my heart."
As Kelly explains, the title to Hiding Place draws inspiration from a line in one of her favorite psalms ("You are a hiding place for me; you preserve me from trouble; you surround me with songs of deliverance"). "That always stuck with me: this idea of God being a place of safety, a place where you can hide from all the crazy things that this world can throw at us," she notes.
Produced by Franklin, Hiding Place unfolds with a lush yet simply adorned sound beautifully suited to Kelly's incomparable voice. "I've worked with Mary J. Blige, Bono, Yolanda Adams, and I've never seen anyone that's a monster behind the microphone like Tori Kelly," says Franklin. "She'd nail one song in three takes, and all those takes were amazing. It set the bar higher for my whole career."
While half of the songs on Hiding Place were penned solely by Franklin, the remaining tracks came from a collaboration between him and Kelly—the first time that Franklin's ever co-written in a decades-long career that's seen his songs performed by legends like Stevie Wonder and Whitney Houston. ("It blew me away that she wanted us to co-write, because she's a phenomenal songwriter and could've easily done it herself," Franklin says.) And at Franklin's urging, Hiding Place was mostly recorded at his studio just outside Dallas. "The most important thing to me was that if Tori wanted to do a gospel album—a real, authentic, heart-throbbing gospel album—she'd have to come to the South," he says. "Then she showed up at my studio with no entourage, no handlers—just Tori and her guitar, standing at my front door."
One of the most profound moments on Hiding Place, the hushed yet urgent ballad "Questions" finds Kelly tearfully examining the current state of the world (sample lyric: "What happens when the healing never comes?"). "It's about trying to make sense of all the dark and heavy things that keep happening, sort of crying out to God and asking, 'What's going on? I don't like what I see down here,'" says Kelly. Then, on the subtly determined "Never Alone," Kelly recollects her own struggles ("I've cried many rivers/I've walked through some pain/Seen my world crumble") and ultimately re-discovers comfort and peace through her faith.
Looking back on the making of Hiding Place, Kelly still marvels at the experience. "I always thought I would do something like this, but I thought it would be much further down the line," she says. "It's been in my heart for some time, but the timing didn't feel right until now. I didn't think I'd get the chance to work with someone like Kirk just yet, and that people would be so excited and accepting." And though the album marks a stylistic departure from her work in the pop world, a commitment to uncompromising artistry carries through all of Kelly's music. "No matter what genre you're working in, there should be a level of excellence, and Tori definitely brought that excellence to this album," says Franklin. "A lot of artists out there will rely on Auto-Tune or studio tricks, but there's no button you can push for emotion, and there's no button for skill. Tori is excellent in everything she does, because she's a real, pure artist."
As she gets ready to share Hiding Place with the world, Kelly hopes that it might give others the same sense of solace and joy she's found in gospel in her entire life. And as the album's creator, one of the most rewarding aspects of Hiding Place was embracing gospel's boundless intensity, and pushing her vocal performance like never before. "With gospel music, you can't sing without all your heart being in it," says Kelly. "This album was an opportunity to not only express my faith and my love for God, but to do what I felt and never hold back. I could just be free and let the song take me over."
Unfortunately, Kelly isn't playing anywhere near me anytime soon, but she is going to be on tour: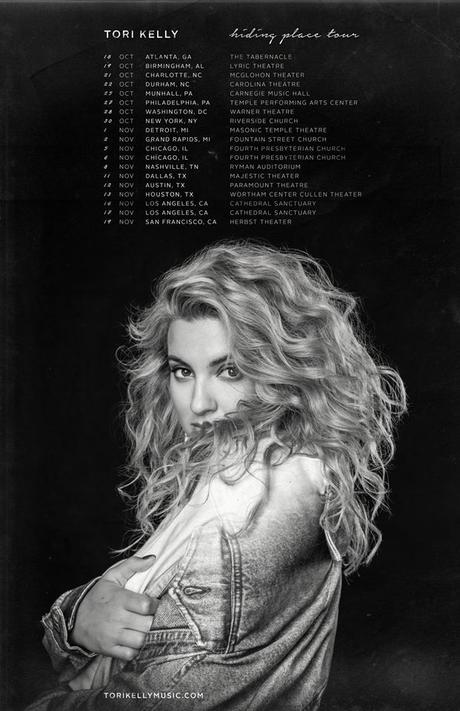 My Thoughts:  This album is very enjoyable to listen to – I brought it to work and played it throughout the day to help alleviate some of the stress in my job. I can honestly say I thought all the songs were great – the lyrics are beautiful and I just love her voice. My favorite lyric is verse 1 of the song, Hidden Places:
There's a quiet place
That gives me peace when I'm alone with You
There's a hiding place
Your Spirit's always there when I'm confused
Only You can purify
All this world won't ever satisfy
My heart, it cries
Tori Kelly is a very talented singer and I am really enjoying this CD.  I'm sure I'll find even more of the lyrics moving to me as I listen along.  If you enjoy a more contemporary and soulful sounding gospel type of music, you don't want to miss this album.
Psalm 32:7 New International Version (NIV) says:
"You are my hiding place;
  you will protect me from trouble
  and surround me with songs of deliverance."
---
"Disclosure (in accordance with the FTC's 16 CFR, Part 255:  "Guides Concerning the Use of Endorsements and Testimonials in Advertising"):  I did receive a sample of the product in exchange for this review and post. 
~ ~ ~ ~ ~ ~ ~ ~ ~ ~ ~ ~ ~ ~ ~ ~ ~ ~

It would be great if you would stay connected with me!! You can follow me on Twitter @DebiL1611, like me on Facebook at 2014 and Beyond, circle me on Google+, follow me on Tumblr, Instagram and Bloglovin', subscribe on YouTube, or connect with me on LinkedIn and Pinterest.

Please make sure to visit my homepage and subscribe to my blog for more great posts on running, fitness and lifestyle topics as well as food, product, music and book reviews, and more!