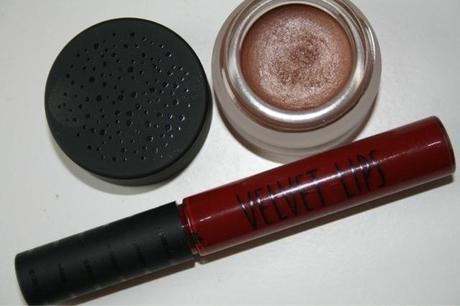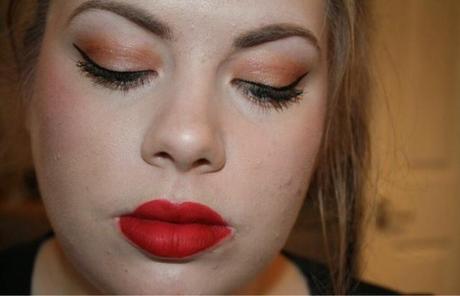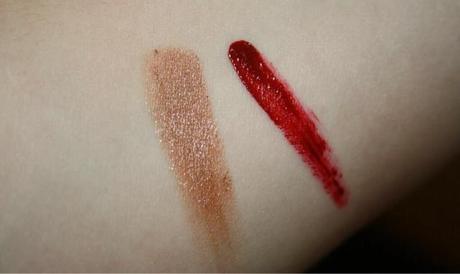 I am a big fan of Topshop make up and have a few things to share with you from them but I thought I would start with two products I have from The Damned collection that launched a while ago.  I will start with my favorite product out of the two, the Eye Gleam in Bronze (£9 Topshop) which is a slight metallic finish cream eyeshadow. This is a really pigmented eyeshadow that applies well with your fingers or a synthetic brush. Like the name suggests it is a bronze shade with a shimmer running through it to give it more of a glam look. I tend to wear this by itself with black liner but it would be great as a base or worn with other shadows for a more dramatic smokey look. The longevity really impressed me and I can wear this without a primer and it doesn't fade or crease all day. I am really impressed.  The second product from the Topshop Damned Collection is the Velvet Lip in Velveteen Ribbon .(£10 Topshop)

This has actually sold out on the website now but other shades are available.

This is a matte lip cream in a deep red shade. It comes and applies in a lipgloss form but is a liquid lipstick that dries matte on the lips and doesn't budge all day. Another great long lasting product but I did find it was a little drying.  Both products I found went well together also worn separately and are great colours for the Autumn/Winter months. The Damned collection is still available on the Topshop Website and in stores, it is worth checking out if out haven't already. I have been trying some of the Matte Nail Polishes from the range too which I will be doing a separate post on.  Have you tried anything from this collection, what has been your favourite?