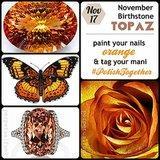 | tō'pāz' |
"For those who were born in the month of November the Topaz is the traditional birthstone. The November birthstone poem reflects some of the properties with which the Topaz is associated - constancy, loyalty, faithfulness and friendship. The Traditional Metaphysical Properties for the November Birthstone Topaz are strength, releasing tension and balancing emotions. The healing properties of the November birthstone are reputed to be effective for health problems relating to  sanity, asthma, gout, blood disorders, tuberculosis and insomnia. The Topaz is also used to enhance spiritual rejuvenation and feelings of happiness." - BirthdayGems.org
Hiya lovelies!
It's another installment of #PolishTogether. If you haven't already heard about it, check it out on Instagram.
Today, we celebrate Topaz, November's birthstone, which is also my birthstone! *hint hint*
Here's the event poster that @perpetualfunk has once again nailed:
Even though Topaz is my birthstone, I'm not crazy about the color. My interest is piqued by rainbow topaz though, but that's another story.
These are my choice of polishes for this manicure:
Estessimo TiNS 403 Rich Topaz and Zoya Beatrix
Estessimo TiNS 403 Rich Topaz is slightly deep champagne gold polish with scattered holo bits and the subtlest hint of orange shimmer bits. I had to include this polish for this theme because of its name, and also because I'm biased towards Estessimo TiNS and will attempt to include one in any manicure possible. *ah hem*
This is 2 coats of Estessimo TiNS 403 Rich Topaz in 3 coats:
Zoya Beatrix is a juicy, vibrant orange glittery textured polish from their Summer 2013 Pixie Dust collection. I absolutely love most of the Pixie Dusts!
I applied it over Rich Topaz in a diagonal gradient...
Here's the Instagram version:
Check out the other Topaz-inspired manicures through the #PolishTogether hashtag search!
Till the next post, toodles!
♥ ♥ ♥ ♥ ♥
To Leave a Comment
I've noted that OnSugar's Comment feature has caused a few readers frustration by not accepting their input. While OnSugar works on rectifying it, I did a trial and error and found that comments don't get red-taped if you enter your information in the "Name" field without any space, ie. "ALacqueredAffair" instead of "A Lacquered Affair". I hope this works. As much as I want to, OnSugar doesn't allow the disabling of Captcha.
Disclaimer: I am not sponsored/ endorsed by any of the above-mentioned companies. All opinions expressed are my own, and will always be. All products were purchased on my own.