With the history of shoes spanning back 40,000 years ago, there has been plenty of opportunity for change and evolution.
From the skyscraper tall platform shoes to the laid back style of the summer flip flop, there have been countless styles, designs and trends that have risen to fame over the centuries. From the initial forging of leather for rudimentary sandals, to the mass sale of products in shoe stores, the way we buy shoes has transformed almost as much as the footwear itself.
With this in mind, here is a look at ten of the most famous shoes worn in history:
1. The glass slipper
Cinderella might be a fictional story but the age-old classic accounts for one of the most famous shoes known in popular culture. Designers like Christian Louboutin have reinterpreted it over the years and it embodies all of the qualities of the classic formal high heel: dainty, feminine and elegant.
2. Ballet flats
High heels might have a long history but flats have been around for far longer. Humans have been wearing shoes since approximately 40,000 years ago and these began with the more practical and versatile flat style approach.
They have since been appropriated as a style icon boasting wearers like Audrey Hepburn; who wore them with slim-fitting, cropped trousers in the film Funny Face in 1957.
3. Manolo Blahnik
Courtesy of one of the most popular TV series of the 90s, Sex and the City, Manolos became a symbol for style and fashion thanks to the central character, Carrie Bradshaw and her enviable collection.
4. Platform shoes
Platforms were popularised in the 1970s in the disco era and were widely worn by both men and women. Since then, they have become synonymous with the 90s Brit pop, girl power movement embodied by the band the Spice Girls.
5. Converse trainers
For athletes and amateur sportsmen alike, the trainer is a popular footwear item for all exercising needs. Yet one brand of trainer that has transcended sport and become a fashion icon in its own right is Converse. It's now as much associated with the rock music industry as it is with the basketball court.
6. Gladiator sandals
The gladiator sandal has become the champion of fashionable summer footwear and has been popular with wearers like Kate Bosworth and Kate Moss.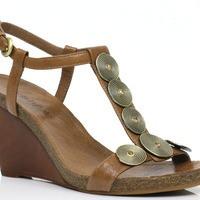 7. Court shoes
While court shoes have been popular for decades, they recently made a splash as the shoe of choice for Catherine Middleton, the Duchess of Cambridge.
8. Peep toes
These are a popular ladies shoe design that offers the stability of a closed shoe, with the femininity and cheekiness of an open toe. Famous wearers include Nicole Richie.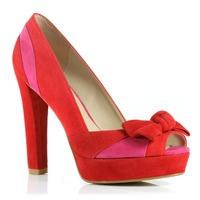 9. Festival wellies
With festivals like Glastonbury and Reading as renowned for their mud as they are for their music, festival outfits are rarely complete without a pair of wellies. Hunter wellies, perhaps the most famous form, have even been spotted on celebs such as Kate Moss.
10. Ribboned shoes
Made fashionable by the late Marie Antoinette, decorative and ribboned shoes were the ultimate symbol of French decadence and wealth. Renowned for her love of popular fashion and footwear, Antoinette remains a style champion for luxury and excess whilst modern styles of these shoes are readily available for those looking for ladies shoes online.