How to avoid a rubbish Christmas this year
Average person will fill almost three garbage bags full of waste this Christmas! That's 125 million bags of rubbish throughout Britain alone.
More than 12 million Brits will be hosting their family and friends this Christmas and as we build up to the big day, the amount of food and drink now being purchased and stockpiled through family homes around the nation is reaching massive proportions.
But have you ever thought about just how much rubbish, food waste, wrapping paper, packaging, bottles and plastic containers you and your family go through at Christmas?
Well, according to new research the average person will go through a staggering three bin bags of rubbish each this Christmas that's about 125 million bags of rubbish sitting around Britain this festive season.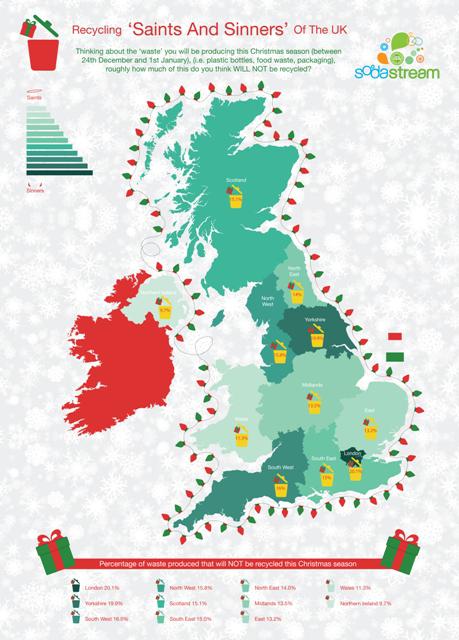 The study also shows that a lot of what will be filling these bags, shouldn't be, with 40% of people saying they will throw away food, almost 15% saying they will throw away plastic bottles, more than one in ten won't recycle food packaging and the same amount won't recycle wrapping paper.
One in ten of us admit that we will recycle less than 50% of all the waste we create this Christmas, with a fifth of us admitting that we will recycle less during that time than we do in a normal week – which could be down to the sheer volume of waste that we are set to generate and the fact that for many of us sorting through, so much rubbish seems like an arduous task.
However, sorting and recycling waste as you go along can save time in the long run and it also means that you're likely to have less rubbish lying around your home during Christmas.
Sodastream have commissioned the research to highlight the practice of 'pre-cycling', reducing waste before there is any need for recycling and they've created some handy tips to help families cut back on rubbish by recycling this Christmas as much as possible.
 Top Five Waste Reducing Tips for Christmas
1.  Get organised before the big day by having separate bags and containers ready to fill with different types of rubbish.
2.  Save on card this Christmas, by sending e-season's greetings cards instead.
3.  Wrap up leftover food as soon as you're finished to make into meals and snacks on Boxing Day
4.  Instead of buying lots of bottled drinks – make your own.
5.  Make recycling fun for your kids by making it a competition to see who can collect the most recyclable items over the weekend and get them to save all their wrapping paper to be used for next year.
 For more information visit: www.sodastream.co.uk