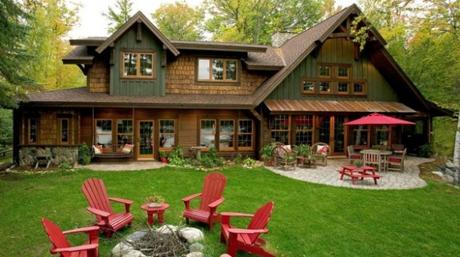 With the evolution of new ideas for enhancing the exteriors of a house, mundane techniques of placing plants and furniture seem to be fading away quickly. People are starting to adopt a mountain of fresh trends for improving the aesthetic appeal of their garden, backyard and patio areas.
Let's have a look at some exterior design trends that are going to be hot this year:


Appreciation of Subtlety Within Gardens :

 Nowadays, people do not want their gardens to be overly embellished. And this year, they are going to be head over heels for more subtle ranges of colours in the detailings of stone walls or delicate branching and intriguing edging patterns in landscapes. Besides that, residential gardens are also expected to feature simple and colourful display of florals with summer or spring hues.


Rethinking The Outdoor Experiences :

This year, serious changes would be made in the ways patio areas are setup. People no longer want a space that allows them to just sit and dine outside. According to designing specialists, modern homeowners would be transforming patio spaces into conversation areas by incorporating innovative facilities such as a fire pits. Dealers of outdoor upholstery in Sydney are of the opinion that people would change their fabric choices for patio furniture.


Newer Lighting Schemes :

 Automated lights is expected to dominate the schemes of outdoor lighting in 2016, and LEDs are going to play a paramount role in making that happen. Since LEDs come in a plethora of systems and are essentially warm, they would be utilised in soft tones for highlighting various plant materials. They can also be arranged for lighting up a landscape for any special event or a holiday.


Manageable Maintenance :

 After working for several hours or having a busy weekend, most people do not have enough time for performing extensive maintenance work on their outdoor areas. As a result, low and manageable maintenance is anticipated to be big this year. That is why people would be appreciating hard wearing types of outdoor upholstery fabric, blooms that are easy to care for, multiseason florals, and so on. The aim would be following design principles that do not conflict with one's busy schedule or necessitate extensive care.
Apart from the above mentioned primary exterior design trends, there are several other simple ideas that can be embraced by homeowners looking forward to improve their outdoor area. They include painting the house with a dramatic shade, integration of design in sustainable features, and so on.