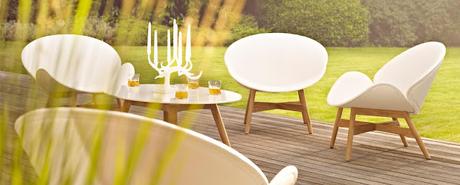 If you have an antique outdoor furniture in your home and want to get rid of it, there are a lot of options for you. You can sell it online, hold a garage sale, turn to a consignment shop, refurbish, restore and
reupholster
it and the list goes on and on. See which one is suitable for you! 
Sell

: 
1.
If your outdoor
furniture
happens to be in good condition you can sell it. After all, many people look for old furniture that's well maintained & will be quite happy to buy it for a very less price.
2.

The garage sale is a great way of unloading furniture, which you need no longer. All you need to do is plan the sale several weeks before so that you don't have a problem putting advertisements online and in newspapers. You will also have to clean your outdoor furniture and make sure to talk over on the price. 
3.

You can sell your outdoor furniture online. There are many online portals that will help you do so. But just remember one thing that everything needs to be done locally. 
4.

When a furniture is taken to a consignment shop, a price will be put on it for it to be sold. Here the shop will take a small amount and give you the rest of it. 
Trade-In
:
This is a good option if you want to buy a new furniture but do not want to pay the entire price of it. In such a case, asking for a trade-in is the best option for you. There are a few furniture stores through which you can trade in your old antique outdoor furniture for credit towards the new one. 
Repurpose, refurbish, reupholster and restore

: 
There is no such hard and fast rule which says that you have to use the furniture as it was intended. You can undoubtedly give it a new shape and look and use it for other purposes. Re-purposing, reupholstering and refurbishing the outdoor furniture is a good option. It can make the space look better and brighter and can even save you a lot of money on purchasing something new. Get in touch with Luxafoam North, if you're in look out for a company in Sydney that can help you with your upholstery job. 
Pass down

: 
You can pass the
antique outdoor furniture
down to your other family member or close friend if they need one. This can be a good option for you as well as for them. You will have it among your own circle. But this would only be okay for you if you consider not taking money from the person you are giving to. 
Donate

: 
Donating to a
charity is also a good idea
. There are several charities that may love to use the antique furniture that you gift it to them. Some may even sell it and use the money for their purpose.