I love a good banana bread.  And this is a cracking one.  What always amazes me about banana bread is that you start off with a bunch of pretty manky, black-spotted bananas, that have often been 'maturing' for far too long in the fruit bowl, and you end up with a moist, banana-splodged, butterscotch loaf that you want to stick your face into.  Very weird.  With this banana bread, I also decided to up the stakes by freezing the bananas.  I read somewhere (a reliable source, I'm sure) that if your bananas are at that perfectly squishy and gross stage, but you can't screech to a halt there and then, mid-conversation-teeth-brushing-combing-hair-waxing-legs to snatch up whisk and bowl and furiously start whipping up a banana bread, DON'T PANIC, you can freeze the bananas!  Phew.  And you really can.  Somehow, despite coming out of the freezer looking like a cryonically frozen, space age fruit, you peel back the frosty skin to find the perfectly preserved goo underneath.  What a revelation!  Never again need we lie awake in angst about the ticking banana bread clock!
Well, it may only be me who is loopy enough to lose sleep over banana bread, but in the case of this particular banana bread, it is worth the lack of sleep.  Apart from the inspired use of wholemeal spelt flour and dark brown sugar which add a deep toffee nuttiness, as well as extra health benefits, my favourite aspect of this loaf is the secret sunken banana.  Before being put in the oven, half a length of banana is placed on top of the mixture and then sprinkled with a generous coating of caster sugar.  While the cake is cooking, the banana is slowly swallowed up by the rising mixture until it is fully submerged.  Here it hangs, suspended in bananery sponge, until it is rediscovered by the blade of a greedy knife.  Yet another texture is created by the addition of the caster sugar, which transforms in the oven from fine and dusty, to molten and sticky, forming a beautifully cracked and crunchy golden crust.  All in all, and I'm fully aware of the weight of this statement, this is THE BEST BANANA BREAD I HAVE EVER EATEN.  So, go bananas over it.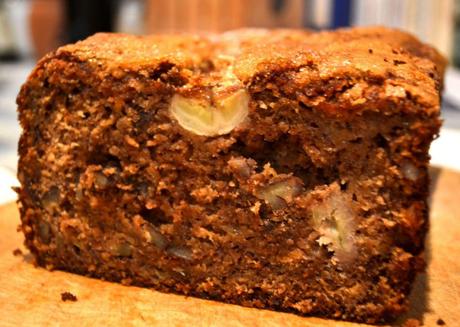 Top Banana Bread
Hannah's Banana Bread
From LEON: Baking & Puddings
Serves 8-10
Ingredients
50g pecan nuts
150ml vegetable oil
200g dark brown sugar
1 tsp vanilla extract
2 free-range eggs
350g ripe-skinned bananas
75g natural yogurt
1 tsp bicarbonate of soda
1tsp baking powder
1/2 tsp ground cinnamon
1/4 tsp salt
225g wholemeal spelt flour
1 banana, peeled, and 3 tbsp caster sugar for the top
Heat the oven to 170°C.  Butter a 900g loaf tin and line it with baking paper, and line a baking sheet at the same time.  Spread the pecans out on the baking sheet and toast in the oven for about 5-7 minutes, until lightly golden and fragrant.  Set aside to cool.
In a large bowl, whisk together the oil, dark brown sugar, vanilla and eggs.  In a separate bowl, roughly mash up the bananas.  Add the yogurt and mix well.  Sieve the bicarbonate of soda, baking powder and cinnamon over the yogurt and banana mixture, add the salt, and stir well to combine.  Now add the banana mixture to the egg mixture and stir to combine.  Chop the pecans into small pieces and add them with the flour, stirring until just incorporated.  Do not overmix.  Spoon the mixture into the prepared loaf tin.
Carefully slice the remaining banana in half lengthwise.  Place one half, cut side up, on top of the mixture and sprinkle with the caster sugar.  (Eat the other half).
Bake in the oven for 45-50 minutes, or until the bread is springy to the touch and a skewer inserted comes out clean.  Cool in the tin for at least 10 minutes before turning it onto a wire rack to cool.