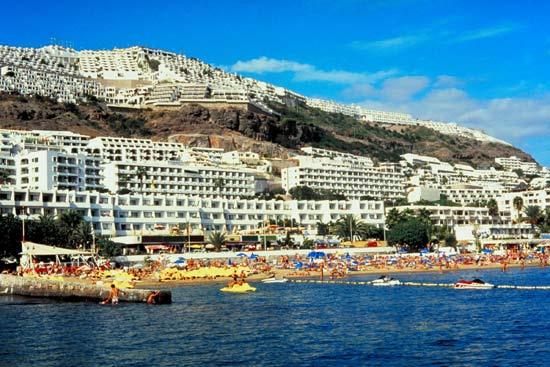 Think of Playa del Ingles and many people think of 18-30s holidays with big nights out where pretty much anything goes. And you'd be accurate - during the peak season between June and August, Playa del Ingles buzzes with throngs of people enjoying its local attractions, its beaches, its bubbly atmosphere and its vibrant nightlife.
But it's not all about pubs and clubs. The

Canary Islands have become well known for their versatility, and Gran Canaria's lively resort of Playa del Ingles is no exception. It's got a little bit of everything - from quiet sandy corners for serious sun-bathers and local attractions for kids, to adrenalin-pumping quad safaris, horse riding excursions and leisurely boat trips.
One of its chief attractions is of course the beach, and this long stretch of sand certainly has star appeal. It's perfect for sandcastles, bathing and soaking up the sun, and you'll also find pockets of watersports such as jet-skiing and paragliding. The beach melts into the famous sand dunes of Maspalomas - a protected nature reserve featuring mile upon mile of desert-like dunes - whichis a magical sight that's well worth a visit.
Family-friendly attractions include lively Sioux City, the original film setting for Clint Eastwood's 'A Fistful of Dollars', which is a great day out complete with a thrilling 'shoot-out'. Holiday World in nearby Maspalomas is great for kids, which features various rides as well as a bowling alley, or for something a little quieter, visit the fascinating Cave Houses of Guayadeque and the nearby Mundo Aborigen museum.
If a trip to Playa de Ingles gets your vote, you'll find stacks of tour operators offering holidays to this busting part of Gran Canaria. There are a number of local travel and holiday agents that are well worth a look.

For example,

Tenerife.com

specialise in all types of Canary Island holidays, including Gran Canaria. They offer plenty of great deals on all manners of different holiday essentials including hotels, villas and

reliable car hire in Tenerife

, as well as tips and tricks on local sights and attractions in the area.