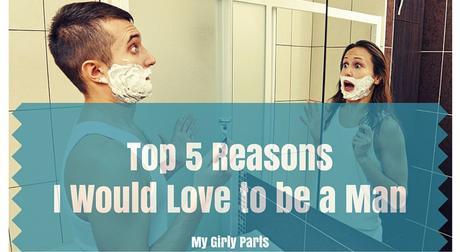 At times, I find myself saying "If only I was a man". Come on, fess up! How many of you have said this?
Here me out
For as long as I can remember, I've had Penis Envy. As I young child, I become fascinated with them. This was way before I even became sexually active. "The Penis" absolutely amazed me! Til this day, it still does! I guess all these years later, I still envy the penis.

It's not all about the penis
There are so many differences between Men and Women. Oh, we'd all like to believe there really aren't that many, especially those of us who are working in the "so-called" Man's World, but really there are. Men seriously have this thing called "Life" made!
Not to get all religious on you but as a child growing up in an Episcopalian family, I was taught that Adam (Man) was naughty and gave in to Eve (Woman). The "Man" was weak, right? However, instead of punishing the "Man", "Women" were punished. Here me out…..
Women bear children
Women have menstrual cycles
Women have boobs
Women have vaginas
Do you see some of what I'm saying here? Mind you, there is no way Men could bear the pain of bearing a child. Be serious ladies. We all know our Men can be sissies when they have a cold. Imagine them going through hours of grueling childbirth!
What about menstruation? There is no way a Man would put up with bleeding for several days a month for 40+ years out of their life! I think there would be a cure by now if they did!
Let me share with you a bit more, but before I do rest assured knowing that I do absolutely LOVE being a Woman!
Top 5 reasons why I would like to be a man
Pee breaks
Men have this so easy. You're driving on a long trip and have to pee. Ok, pull off to the side of the road, unzip and whip it out, lean out the door (or walk down into the weeds), and pee. Done deal.
Women have to drop trow, maneuver the panties, and squat.
Boners
Boners are fascinating to me! If I had one, I'd play with it all the time! They are too freaking awesome!
Yet, instead of a Boner, women are blessed with a Menstrual Cycle. Do you see this as being fair?
Shaving
Men really don't have to shave anything! By choice, they may shave their face (beard and mustache area) but it's not a mandatory thing. What else do they have to shave? Nothing!
Most Women, depending on culture, shave their legs, armpits, the Netherlands, the back door, and some result to other measures for facial hair. If I woman has hair pits or a bush, it is frowned upon in the U.S.
'Guys are like dogs. They keep coming back. ~Lenny Bruce #Men
Click To Tweet
Aging
Aging men who don't work out on a daily basis are destined to get a gut. You know, this is the generally the huge thing that is held above the belt line, thus making the size of their jeans smaller than what is actually needed.
When Men start graying, this makes them distinguished! How the hell does that happen?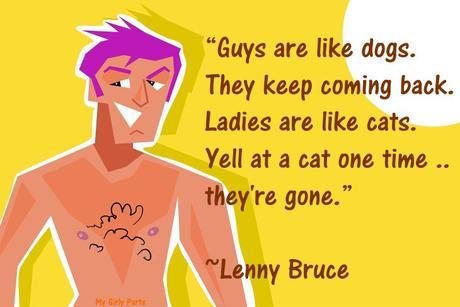 Women who start putting on weight around the midsection is really frowned upon. We are called "fat asses". We buy our jeans so we can stuff our bellies into them OR you buy mid rise pants and get a huge muffin top. How many times have you looked at another woman and said "Oh hell!"
Women get sparkles in their hair. No, I'm not talking sparkles like Twilight Vamps. These are hideous looking spots, splotches, and streaks of silver or gray in our hair. If we don't color our hair, it looks like hell! 
'Women are like cats. Yell at a cat one time... they're gone. ~Lenny Bruce #Women
Click To Tweet
Nakedness
When it's hot as hell outside in the summer months, Men are so free to walk about without their shirts on. It doesn't matter if they appear 12 months pregnant or have a bird chest, it's acceptable! They can wear cut off shorts with that big ole belly hanging over and no one thinks any different. The best part for them, they are cool.
Men can "free ball" to air out their manhood. I'm sure it's a very freeing feeling!
Women don't have this option. You don't know how many times I'd love to walk around without a bra and shirt on in the summer. You know what I'm talking about. BOOB SWEAT! IT SUCKS! Not only does your bra get soaked, but so does your shirt! If we go without a bra and have larger boobs that too is frowned upon. Where does it state that Women should suffer in summer months?
Let us not forget the vaggie sweat that happens and the accompany odor. Can we easily "free ball" as the men? I don't think so. We have to worry about leaving "tracks" behind us or on our pants. 
**Bonus! Think about the "after sex" cleanup!

So do ya see why there are times I would love to be a man?
I seriously think these guys have no clue how good they have it! Hopefully, if you're sharing this along, a man or two will read it and understand how lucky they are!
Don't get me wrong, I do love being a Woman, however at times, I wish I could flip that switch and have some of their pleasures.

Over to you
You may not wish to be a man at times, but what are some of the things that you feel Men have an advantage over Women and is a major perk?
Top 5 Reasons I Would Love to Be A Man #NSFW
Click To Tweet
Let's dish!
Related
Tweet
Share
+1
Pin
Share
Stumble
Reddit
Share
Total Shares

15