In this era where people are going nuts over technology and all the varied range of games with their eye-catchy, high-quality graphics, a lot of people's favorite game falls under the category of Bike Racing Games. With time, Android has published lots of Bike Racing Games. But not all are worth trying out. So here is a list of the top Bike Racing Games.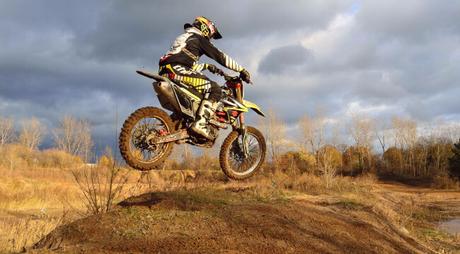 One of the most famous and most downloaded Bike Racing game with nearly 483897 users, this game is just the fastest racing game which provides you full throttle power & lets you race with full speed. In the fast paced racing game you can drive with incredible fast speed during traffic rush time The surroundings of this game have beautiful views of City, Desert, Sea, Forest, and Bridges. The path of riding in this racing game will always be highway road, and you can also drive crazy real fast in this match. The main highlight of this game is the impressive graphics. Also, you can customize the look of your driver as you like. As you keep riding your bike, you will get your reward which will help you to unlock the new bikes. This top downloaded Android racing game is the mixer of fun with bike racing. This game has multiplayer options, simple control units, 16 bikes and amazing 152 racing tracks. You will never get bored exploring in this game. To unlock new levels and bikes, you need to beat your friends and other bike racers so as to earn the stars. This several awards winning the racing game is the most authentic racing game of its kind. This game has been the winner of Tabby Award 2014, Mobile Excellence Award as the best game of 2013, Game Connect Asia Pacific as the best game of 2013. So basically in this game, you race off your buggy by the beach side. This game has the most realistic and beautiful effects and graphics. The surrounding of the game has world packed with Tiki statues, grass shacks, giant crabs, lava monsters. You can unlock more cars by your amazing power ups and get over advantage over your opponents. Explosions? Smashing everything that appears on your way? That sure would make up one real fun game! Well, that's what Smash Bandit consists of. Rather than the standard games where you race off other players, Smash Bandit offers a whole new concept where you run from the cops.
This game comes with excellent and high-quality graphics. The most important feature that makes it stand out in the list of Bike Racing Games is that as long as you are playing this game, you can pick up tools on your way while racing, and throw them at your opponents. Throwing tools at them will restrict their progress in the game. And every time you knock down another opponent biker, especially from a close range you get new helmets.
See Also: - 10 Games Like Angry Birds
These new helmets help you unlock cool vehicles. Also, don't forget to collect nitrogen or else you will be left behind in the racing game. Of course, you can share your score to the ranking. It Can also be shared to various social networks, such as Facebook, Twitter.
To accelerate your bike just tap on the screen. And tilt your phone in the direction that you want to go. To find the right direction in the game just follow the indicators on the screen. Accelerate your motto to boost your score. The boost factor is shown on the right top of the screen. Keep a watch on indicator lights of the vehicle so that you don't crash into one.
This top-notch racing game gives you the real feels of racing with its 3D effects and various bikes and tracks that can be customized. The game is designed in such a way that you can adjust according to your device screen sizes. Also with the player online mode you can challenge another online player and share your scores and achievement in social media site. Try to find the right balance between power and grip while staying in your class. Also, add a little nitrous oxide to give your ride an extra kick!
See Also: - Enjoy Poker on Android Smartphone
In this game, you can race any distance from 1/8 to 1/2 mile. Furthermore, every day after you complete your daily challenges you get to spin the Wheel Of Fortune and get awesome bonuses.
It is another Android racing game for hers who like 3D effects in their gaming screen. You will have different options of racing on roads, desert, city, bridge, sea, and forests. Also, you need to collect coins during racing to get new bike and helmets. To accelerate your bike just keep tapping n your screen which in turn will continually increase your speed. And to change direction in the game just swap your phone.
This advanced level to Speed Motto has 3D effects and advanced racing bikes. There are various gaming modes like free race, challenge, survival and drag racing in this game. The primary task in this game is to find world six High-Performance bike in five different zones of the world.
You can have online head-to-head racing. Tilt to Steer your Motorcycle and drive close to Cars and Trucks to Score more point. To drive close without hitting you can zoom the screen. And you get boosts also, just in case you want to go super fast. There are four different highway roads to ride in. There is a fugitive mode too in which you have to evade the police.
Each level is more challenging and exciting than the other. You even get to perform some daring stunts in this game. Bike Race Free will make you feel the speed! Nitro Boost will take you flying off the stunt ramps! Just touch the game screen to accelerate the bike. To move your bike in the direction you like, just tilt it in that direction.
In this game, you can get different license owned cars from Lamborghini, Mercedes, Ferrari, etc. and tracks too. You can even play multiplayer races with over eight players. Another cool feature is cross-platform multiplayer. But one disadvantage is that it consumes lots of space.
You get to improve your game with performance-boosting power ups and gadgets.You can even paint your buggy as you like and boost up its performance level. This game supports tilt, touch-screen, and most game pads. Extra effects like motion blur, lens splash, dynamic headlights in caves, real-time rendered car shadows, etc. are available in Quad core devices like Galaxy S3.
You can smash through almost anything like walls, houses, fences, etc. and nothing can stop you because staying means you're busted. The further you get and the more you smash, the bigger the TV ratings and the more cash you earn. Also, there are over 100 challenges where you can test your driving skills to the limit.
If you are up for some bumpy jumpy ride, then this game provides you that; well at least in a match! Rather than riding your bike on a flat road, you need to ride it on the mountain and another terrifying terrain. In this game, you need to Race through a variety of dangers and pitfalls, make crazy jumps and collect jewels and gold. You can commit your score and compare with other players all over the world.