Hello dear readers,
I am always really really excited to come across a last name that ends with –IAN because it means there is a pretty good chance that person is of Armenian heritage. I was particularly excited to discover Veronique Nichanian who is the head menswear designer at Hermès. This is unusual for the industry as most menswear designers are actually men but clearly, Veronique has shattered the glass ceiling. She is going on my list of Awesome Armenians!
Anyway, here she shares her top 10 style tips for men. Love the advice. Who wouldn't love a man with a collection of cashmere, moccasins and watches?
FOLLOW THE RULES FROM VÉRONIQUE NICHANIAN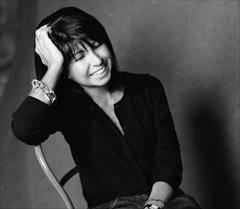 1. The right proportion and fit are a matter of centimeters—millimeters, really. When you choose clothes that are perfect for you, you feel strong, comfortable, and more self-confident.2. Style is a question of charm, not nationality. It's not true that French men have more allure or style than American men. It's just that they dress with more personality. They don't follow dress codes, and sometimes they mix things in a way they shouldn't. Like how Serge Gainsbourg dressed, with his reptile shoes with jeans and blazer and white shirt—that's charm.3. For a weekend away, a man should bring a simple shirt, two cashmere sweaters, three Polo's, and one pair of jeans. For shoes, either sandals or light leather moccasins—just the essentials.4. In relationships, you must show proof of love and do something passionate. I once had a boyfriend fly from New York to Paris just to have dinner with me. It was very smart.5. Age is not important. A man, no matter if he's 20 or 60, can wear a tee and jeans if he has the right body.6. You should have one watch for the weekend, one for the week, one for suits, one for sport. I love watches. Watches are for men what perfume is for women. They are very personal, and you can wear them according to your mood.7. Wearing a scarf is about attitude. A man should just wrap one around his neck, maybe two times—but not tightly like women do. It should be nonchalant.8. Men make a mistake when they follow fashion instead of their own personality or their own body. When they dress in a very slim shape even if they don't have the right body, it's all wrong. It's awful. With my husband, I tell him, 'Stay yourself and I'll take care of you.' He's the most spoiled man in Paris.9. You can never have too many cashmere sweaters. There are so many kinds of fits and colors. You should have a lightweight one for summer and a heavier one for winter. Whether you wear darker colors like navy or brighter ones like green or yellow can depend on the way you wake up.10. The most timeless article of clothing a man can have is a leather piece. An Hermès leather bomber.
Enjoy!
Foodie Wife