If you are getting bored at work and need a little break, flash games are to the rescue! These are little games that you can play using your browser. No need of great memory, no need for high performing graphics card and no time-consuming installation and loading process! All you need is an internet browser, and you are ready to go!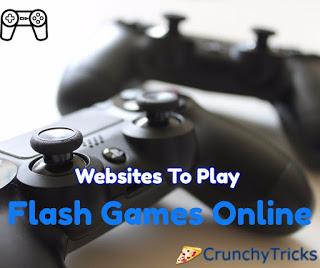 These mini-games can also great stress busters taking your attention off your tiresome work for a little while. And if you are away from home where all your games are stored and you can't access it, remember, flash games are these for you! And for grown-ups who are having a tough time parenting, you can get into one of these sites and chose safe games for your kids.
You don't need a PlayStation or leverage your smartphone for that. Here are 10 websites where you can play Flash games.
Miniclip is one of the most popular flash gaming sites with a huge fan base and players. You get to play games of all genres be it action games, sports games, puzzle games, games for girls, and much more. Even iPhone games, Android games, Windows Phone, games can also be played.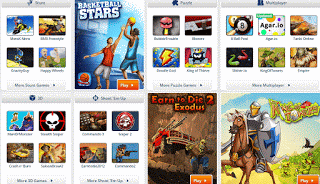 And if you want to keep your kids busy, there are games for them too! You have options to compile games statistics. You can get to know high scores and where you stand using rankings on your player page and can receive awards for playing games. There are fun multiplayer games too!
To represent yourself online, create your funky avatar and stand out! The sign-up and benefits are totally free. You can play games that are available on smartphones as a trial and download them on your phones if you like them.
It delivers just what the name says, online games! There are over 1000 free online games grouped into many sections. These action games, car games and more are created precisely to cater your gaming needs. The games have been categorized in the website to help you choose your pick quickly!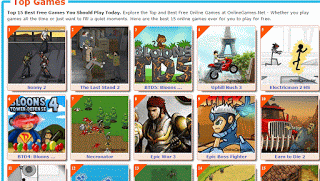 Armor Games have an impressive array of action games. You can also play puzzle games to sharpen your brain and give it some exercise. The games can be played on mobiles too! The gamers can create a profile and share their achievements in social media platforms such as Facebook.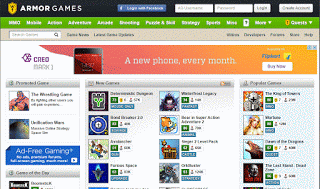 There are fun games available on OnlineGames.com which you can play. Modern games such as Candy Crush Saga are also present on the website. You can also download certain games to play them offline.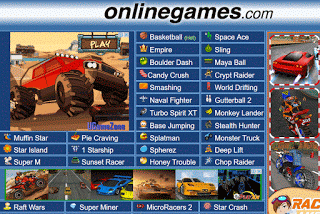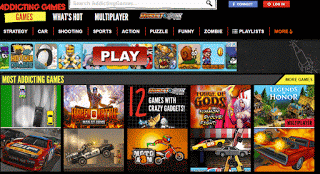 Addicting games have lots of games and a brief description of the games. Users can also rate the games and write comments. There are car games, strategy games, and puzzle games that deserve special mentions. You can connect with your Facebook account and play the games too!
There is a vast array of games offered by Crazy Monkey Games. You can see the game descriptions and their rating along with the game which makes it easy for you to choose the games quickly based on their reviews.
The games also have guides, tips, and tricks that can give you a good player even on your first try! For the gamers to stay tuned, there is a Crazy Monkey Games newsletter that updates you with the latest happenings from the player world.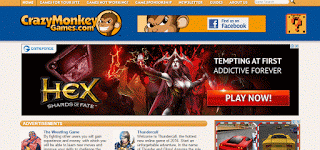 This website has a plethora of games, and they are sorted into various categories based on different criteria to make you select the game that suits you. To play a game, you have to create an account by signing in. Although the games are free, using premium upgrades, you can get more features and obviously, more fun!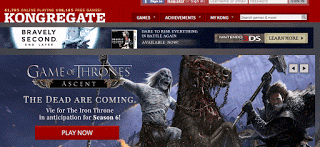 You get badges when you complete challenges. They feature Notable Games, Top Games of the Month and other options to choose from. You can also connect with Facebook and show off your achievements with your friends.
Newgrounds is a very interactive website to play games online. It is one of the best time killers as it offers much more than just games. There are categories such as Art, Movies and Music apart from games. In art section, you can find images and pictures that are submitted by the users in the community.
There are various subcategories such as 3D art, pixel art and much more. Similarly, in Movies and Music sections too there are plenty of trending and latest collections. Here also, the users can submit their entries. There are member forums to connect you with gamers who share a common interest as yours.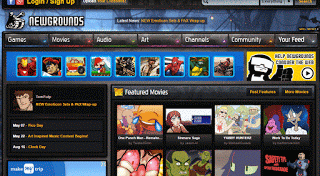 You need to sign up and create an account to enjoy the experiences brought to you by Newgrounds. This is a spectacular website that gamers and art aficionados should not miss!



Yahoo! One of the most popular browsers has a lot of flash games to offer to you apart from their other services. You can just browse Yahoo games to avail them. They have been sorted into categories such as Action, Puzzles, etc. There are board and card games too to keep you intrigued.
Daily crosswords and Sudoku games are very popular with about 20 million users playing them. If you never knew about the Yahoo! Games, give it a try!
Bgames have a long line of addictive games bundled up in their website. There are cooking, dress up and girl games that might enthuse the female gaming community. Also, a lot of kid games can be of great interest to children and also to those parents who are having a hard time managing their restless kids! Bottom line, there are games for all genres.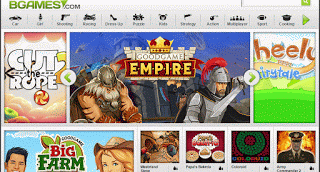 You can even play with your friends with the set of multiplayer games. And the search bottom at the top right corner of the website helps to get a particular game from the long list of games. It has a pretty straightforward and comprehensible interface that will keep the user glued.

People might think that who needs flash games when there are hundreds and hundreds of sophisticated games that you can play on your PC with your high specification laptops, desktops and gaming consoles.
But there are plenty of users who rely on flash games as their daily dose of entertainment. And obviously, these games have a huge fan follow up too. The best thing about flash games is that you can play with your friends who are away from you which is unique to internet games.
So take a break, browse any of these sites and have some fun! But make sure that you are not spending too much time on the internet and pushing your work deadlines.