I am amazed that I have not reviewed Too Faced's Primed and Poreless Face Primer yet! I use it every time I wear foundation and I absolutely love it because it works!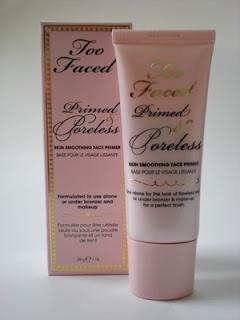 Primed & Poreless is a face primer designed to be worn under bronzers or foundations and can ever be worn by itself to perfect skin on those days one does not want to wear much. It is a slightly tan/nude formulation with a very silky feel. It glides onto skin very easily and the color blends right into the skin (I would think on any skin tone, but I have only used it on my own). I wouldn't call it a gel or a cream and certainly not a paste; it has a very unique consistency. I do not find it at all drying, nor does it make my skin oily. It helps disguise my pores instantly and does mattify my skin slightly. I would say it has a satin finish on its own, but foundation finishes remain true on top of the primer. I tend to use it only in spots where I am concerned about pore size and I gently sweep a pea-size amount over areas I want to smooth, then pat the Primed & Poreless fully into my skin. Instantly my pores look smaller and my skin looks smoother, healthier and less shiny. The perfect base for foundation, or even just to wear alone!
According to Too Faced's website, Primed & Poreless contains Vitamins A and C, Mulberry Extract and Retinol to reduce the appearance of pores and soften lines, hydrate, firm detoxify. It will help makeup to stay put and remain true all day. Products applied over Too Faced's Primed & Poreless should apply more smoothly (and I would agree, they do!). I do not notice much, if any, scent to this product. It is Vegan-Friendly and Paraben-Free as well! I believe this is a silicone-based product which seems to cause trouble for some, but I have had no trouble with it and it has not caused any break outs.
Primed & Poreless is also available in a Bronze Tint version as well as a Pure Oil-Free version for Sensitive Skins. I have tried the Pure version as well and felt it did not disguise my pores quite as well, but is still a great option if you have trouble with the other versions. It is also perfectly clear if the color of the Original does not work with certain skin tones (I really don't think this would be a problem though).
Too Faced Primed & Poreless retails for $30.00 for a 1oz / 28g tube and is available from:
www.TooFaced.com www.Sephora.com and retail locations www.Ulta.com and retail locations
For my Mini-Profile and Animal Testing Policies regarding Too Faced Cosmetics, you can find it here.
Disclaimer: I am not affiliated with Too Faced Cosmetics in any way, nor have I been compensated for this review.