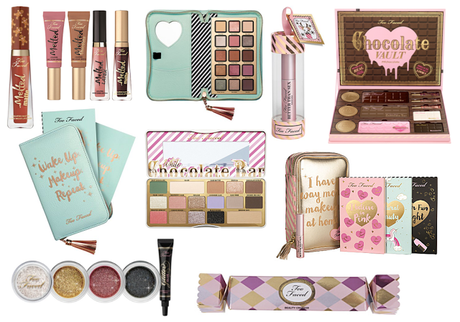 Too Faced are one of my favorite higher end brands so I always love seeing what they come up with for Christmas. Too Faced are own for having some of the best packaging and this holiday collection is no different! I love the selection this year and I can definitely see myself picking up a few things. 
Melted Matte Lipstick in Gingerbread Man £19: A limited edition shade of the Melted Matte with a gingerbread scent. 
Pretty Little Planner Makeup Gift Set £34:
Best Year Ever Gift Set £46: Includes three palettes and a deluxe size of the Better than Sex Mascara include a limited edition beauty bag. 
Under the Kissletoe Gift Set £22: Comes with an original melted lipstick, a melted chocolate, a melted latex and a melted matte. All four are mini sizes. 
Mini Better Than Sexy Tree Ornament £10: My favorite mascara in mini size inside a cute little ornament - ready to hang on the tree. 
White Chocolate Bar Palette £39: A brand new chocolate bar palette full of fun matte and shimmer shades. 
Beauty Cracker £20: Includes a mini melted matte lipstick, deluxe size Better than Sex Mascara, Shadow Insurance and a heart-shaped pin. 
Chocolate Vault £180: Comes with full sizes of the three chocolate bar palettes, three chocolate Soleil bronzers, the two chocolate chip palettes and three melted chocolate lipsticks. 
Tis the Season to Sparkle Set £19.20: Includes four ultra-fine loose Glamour Dusts with the Glitter Glue. 
Boss Lady Beauty Agenda $58: The set includes 24 eyeshadows, blush, bronzer and highlight as well as a mini liquid lipstick and mascara inside an agenda.