Good morning!
*phew* This week has been insane and it is still not friday yet! I have about three assignments to be done in three weeks' time. Serves me right for procrastinating. urgh. Seeing as it's going to be a mad rush from now, I apologize if I am no longer as active in catching up with other blogs and commenting or posting on twitter and facebook!
Anyway, I sincerely hope you are not getting sick of Tony Moly-s by now. I was just browsing through the site where I ordered the galaxies when I spied some new pretties.
Ordinarily, I would have restrained myself as I'm technically on a no-buy. But one of them looked like a dupe for one of my lemmings, Deborah Lippmann's Glitter in the Air! Since I couldn't lay my hands on Revlon's Whimsical either, I simply *had* to grab these glitters! How could I pass them up!?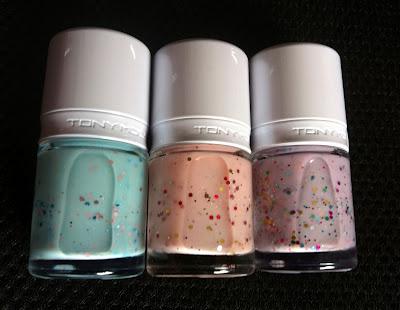 Aren't they pretty?
So here's the one that first caught my eye: Milky Way!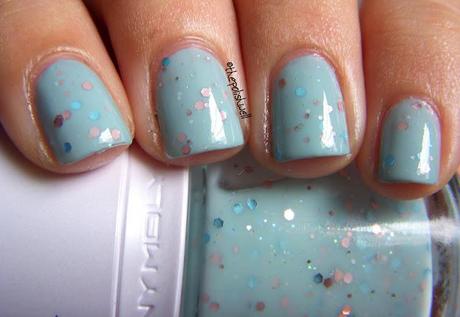 2 coats of Milky Way over 1 coat of China Glaze Seaspray
So is it a dupe for GITA or Whimsical? I don't have them so I can't do a comparison but it does look pretty much like a dead dupe right? Sheer milky blue base - check. Large and small pink and blue glitters - check. There are also some tiny glitters that flashes blue and green when the light hits it just right.
Anyhow, dupe or not, this is a very soft and pretty polish by itself! Love it!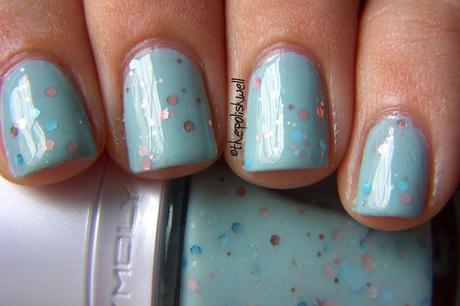 This is the most color accurate picture *shakes fists at the uncooperative sun*: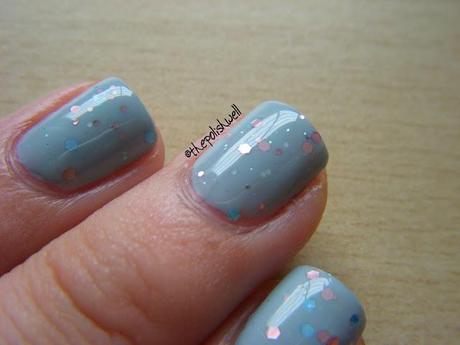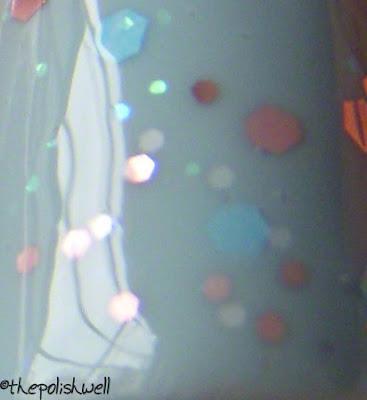 Application was great - the formula is smooth and the brush is easy to control. My only slight complaint is that the glitter is a little sparse. Of course, I'm not expecting it to be jam-packed with glitter since it is supposed to be soft and dreamy. But I had to shake the bottle and move the brush around for a bit to get more glitter for the nails above. Still, it's worth the effort *sighs happily*
Do you own GITA or Whimsical? What do you think of this color?
Stay tuned for more swatches from this haul! :)
xoxo,
mich
p.s. Since we are talking about Tony Moly, don't forget to enter our giveaway for a chance to win amazing polishes from Tony Moly Galaxy, China Glaze Hunger Games and OPI Holland collections!