I am firm believer of spontaneity.For me be anything, it has to happen spontaneously.Especially I think spontaneity is the key factor when it comes in making friends.We meet so many people every day in various places but do we make friends with everyone?we feel like talking and nurturing friendship only with those who we feel the spontaneity factor.Any book that would sustain my interest beyond 3 pages would be the one I would continue to read and the same goes with movies also.In the same way when it comes to cooking I am much like my mom,she is a spontaneous cook.In a jiffy she is capable of creating a whole new level to an existing dish and that is how this tomato mor kuzhambu was born.For those who are not familiar,mor kuzhambu is a kind of stew made with butter milk and it sans tamrind and usual sambar powder.It  is a must in all festivals of Tam-brahm's.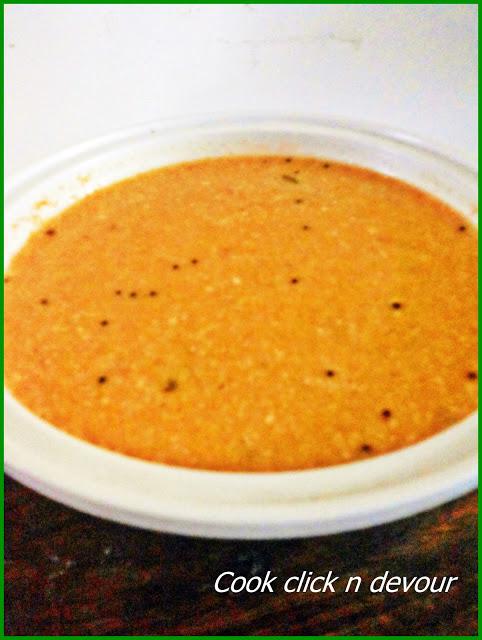 My sister and myself were not much fond of this kuzhambu,some thing in it always put us off and we always used to create a lot of fuss when ever this kuzhambu was made.One day our mom made this version with tomato and we loved it.From then this has become the staple mor kuzhambu in our home.Hope you all will give a try and enjoy as much as we do.
Ingredients:
1 cup curd
10-12 curry leaves
1 teaspoon mustard seeds
Salt
Oil to temper
To grind:
3 table spoons grated coconut
2 large tomatoes
3 green chilles
1 tablespoon cumin seeds
1 teaspoon coriander seeds (optional)

Method:
1.Grind the listed ingredients to a smooth paste. Add two cups of water to the ground paste and boil for 5  minutes adding salt.
2.Take the curd and beat it really well,there should be no lumps at all,add the well beaten curd to the boiling mixture and reduce the flame.Once the curd starts to froth remove immedietly from heat.Temper with curry leaves and mustard seeds,serve hot.
Time:15 minutes
Serves:4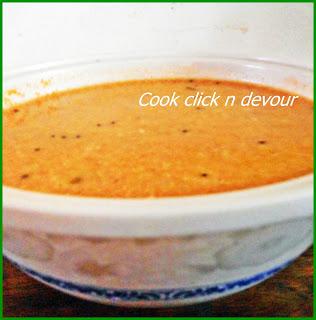 Notes:
1.If you want to male regular mor kuzhambu,omit tomatoes while grinding and add one of the vegetables among pumpkin,okra,vazhaithandu.
2.Beating the curd very well is the key for good mor kuzhambu.If curd is not beaten well there will be lumps in the kuzhambu and it will not be creamy.
3.Next important point is after adding the curd the kuzhambu should not start to boil,remove from heat immedietly it starts to froth.
4.Usually during festivals we make ulundhu vadai and we add 4-6 vadais in mor kuzhambu.