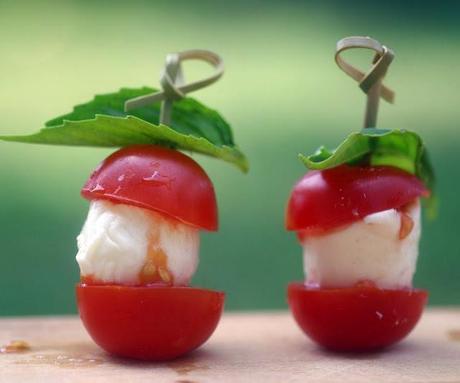 We are now at # 48 in our
Gourmet 50 Women Game Changers
. Mary from
One Perfect Bite
leads us through all
50 women game changers.
Today we are featuring Cat Cora. Cat Cora is a Greek American Chef. She is most notably known as her role as a
Iron Chef
on Food Network. She was born in Jackson Mississippi and raised by Greek parents. After high school, she attended the University of Southern Mississippi. She received her Bachelor of Science in exercise physiology and Biology. She then enrolled at The Culinary Institute of America in Hyde Park New York. Cora's cooking style is influenced by many chefs none more than her grandmother Alma. She owns two restaurants,
Cat Cora
located at Terminal Two in the San Francisco Airport. Her other restaurant is Cat Cora's Kitchen located in Terminal E of the Bush International Airport. She is currently developing
The Cat Cora Show
, a talk show all about food and wine. Cora, a lesbian lives in Santa Monica California with her partner Jennifer. She has four sons, Zoran, Caje, Thatcher and Nash. Today I decided to make her Tomato and Mozzarella skewers.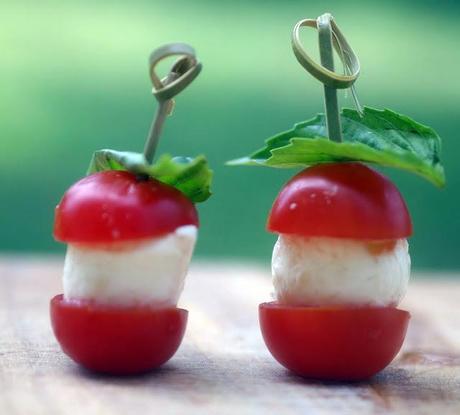 Tomato and Mozzarella Skewers
adapted from catcora.com
1/2 teaspoon kosher salt 1/2 teaspoon freshly ground black pepper 2 celery hearts ( 3 tablespoons finely diced) 32 Fresh Mozzarella Bocconcini 32 Cherry Tomatoes 1/2 cup Bloody Mary Mix 2 tablespoons Olive Oil 32 Large basil leaves wooden toothpicks
Directions
In a medium bowl whisk together all the ingredients. Refrigerate until you serve. When ready to serve, thread the mozzarella, tomatoes and basil leaves on wooden skewers. Serve cold or at room temperature.
The following bloggers are also featuring the recipes of Cat Cora today. I hope you'll pay them all a visit. It is wonderful to see what they all have to bring to the table.
Val - 
More Than Burnt Toast
, Taryn - 
Have Kitchen Will Feed,
 Susan -
 The Spice Garden
Heather -
 girlichef
, Miranda - 
Mangoes and Chutney
, Amrita - 
Beetles Kitchen Escapades
Mary - 
One Perfect Bite
, 
Sue - 
The View from Great Island
, Barbara - 
Movable Feasts
Linda A -
 There and Back Again, 
Nancy - 
Picadillo
, Mireya - 
My Healthy Eating Habits
 Annie - 
Most Lovely Things
, Jeanette - 
Healthy Living
Claudia - 
Journey of an Italian Cook
,
 Alyce - 
More Time at the Table
, 
Kathy - 
Bakeaway with Me
, Martha 
Simple Nourished Living, 
Jill - 
Saucy Cooks,
Sara -
Everything in the Kitchen Sink
Please join us  week when we will highlight the career and recipes of Soraya Darbi and Alexa Andrzejewski
. 
Peace be with you, Veronica