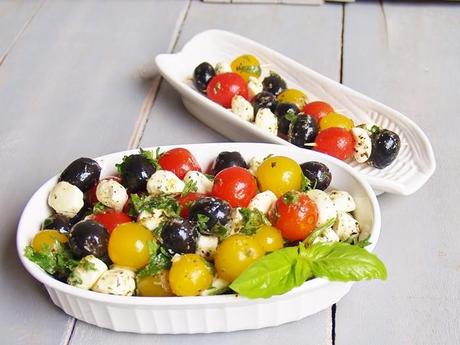 How is everyone doing? We are all fine but this weather is so hot and humid, if we were to hang our clothes out on a line, they would never dry! This post is about a cool and refreshing salad that you can serve in a bowl or cleverly on toothpicks as an appetizer – or a way to get children to enjoy things like tomatoes and olives. TOM stands for Tomato, Olive, and Mozzarella salad. It is so easy to prepare and the best part is, you can prepare it early in the day then enjoy for supper although my daughter will be taking it in her lunch tomorrow for a light meal.
You will need the following:
1 Pint yellow grape sized tomatoes
1 Pint red grape sized tomatoes
1 fourteen oz can of pitted black olives, drained and rinsed
1 package of Mozzarella pearls, drained
1 small bunch of fresh basil, chopped
4 Cloves garlic, minced
1 small handful of fresh flat-leaf parsley, chopped
½ Cup Olive oil
1 teaspoon dried oregano
Zest of ½ a lemon
Juice of 1 lemon
Directions:
In a large bowl, whisk together olive oil, oregano, minced garlic, and lemon zest.
Toss in the tomatoes, olives, mozzarella pearls, basil and parsley.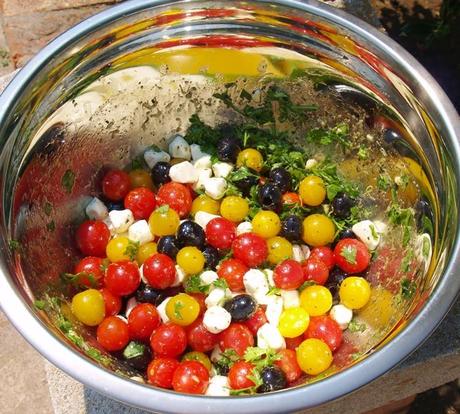 Make sure everything is covered and squeeze in the lemon juice.
Store in fridge in an air-tight container for several hours so all the flavors can mellow.
When it is time to serve, you can either stick them on toothpicks like a shish-kabob or serve in a bowl. However you eat them, I know you will enjoy it!