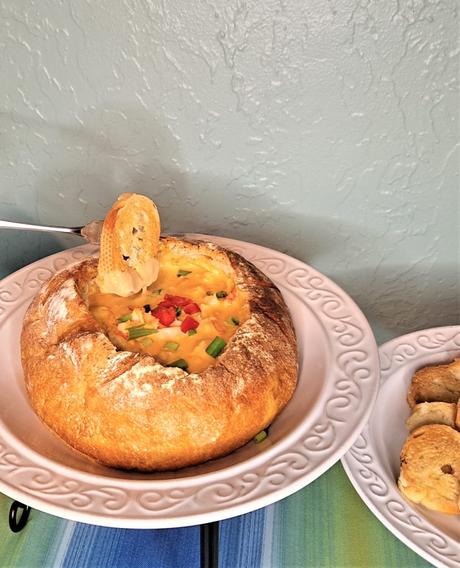 Do you remember Red Lobster's Ultimate Fondue? I do! A little more than 10 years ago they removed it from their appetizer menu. But it was my absolute favorite item on the whole menu. I enjoyed it so much that my husband found a recipe and started making it for very special occasions. Over the last 10 years, he's probably only made it a hand full of times and he's adjusted it a bit to our liking.
A few weeks ago, we were chatting with my mother-in-law and I mentioned Ultimate Fondue and recalled much we had both liked it. I told her that David knew how to make it and with her birthday coming up, we should have that as part of her birthday dinner. She was excited and so was I.
The smooth cheese with the lobster and the tang of the sourdough bread is an incredible combination. We served this appetizer for MIL's birthday and everyone devoured it. Our son, who had never tried this delicacy before, now says he wants this served for his 9th birthday. Sounds like a plan to me!
This decadent fondue is perfect for almost any holiday! Make it for Mardi Gras, Valentine's Day, New Year's Eve, Super Bowl Sunday, or any special occasion.
Copycat Ultimate Fondue
Ingredients
1 lb. Velveeta cheese; small cubes
2 cups swiss cheese ; grated (less for a thinner consistency)
1 can Campbell's cream of shrimp soup
1 cup milk
1/2 teaspoon cayenne
1/2 teaspoon paprika
1 or 2 lobster tails broiled in butter and chopped
1 cup cooked, chopped shrimp
Crusty sourdough bread and/or Sourdough bread bowl.
1 diced red pepper and Green Onion (optional garnish)
Olive Oil
Directions
In a medium sauce pan over low heat combine Velveeta, Swiss, soup, milk, cayenne, and paprika until melted and smooth. Stir regularly and keep the heat low to prevent scorching.
When fully melted, stir in the chopped lobster and shrimp.
If you have a sourdough bread bowl, carveout the middle to create a bowl. Place the prepared bread bowl, scraps from the inside, and any other sliced bread for toasting on a cookie sheet. Drizzle with olive oil and broil on low until to desired level.
Fill the toasty bread bowl with Ultimate Fondue. There will be more than enough to fill the bread bowl. Garnish with red pepper and green onion, if desired, and serve with the toasted bread.
Ultimate Fondue can be served with all sorts of other fondue accoutrements. This is a wonderful dish to serve for special occasions.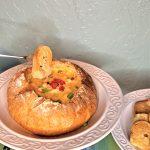 Copycat Ultimate Fondue