Look at what my calendar told me I had planned today…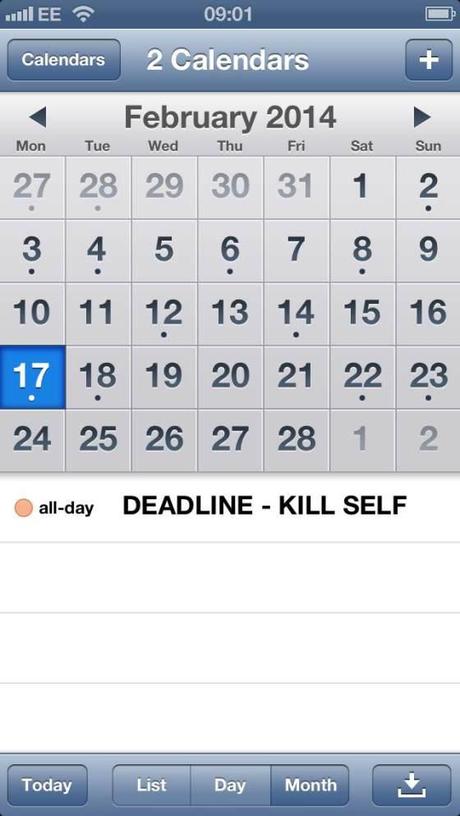 A year ago today, I started How to Be Jobless, and gave myself a year to get a job in journalism. It seemed like a good deadline – surely a year would give me a good indication of whether I was jobless because of a crisis, or because I was no good as a journalist.
I went to 17th February, 2014 on my calendar. I typed "DEADLINE - " … Deadline, what though? Deadline – find a different career? Ugh, how bleak. I'd only just started this experiment and I was already preparing for failure. So, for a personal joke, I just typed "DEADLINE – KILL SELF".
I'm happy to say the Guardian came to my rescue eight months later, so I won't be committing career or literal suicide today.
For those of you still bashing away at your job hunts, keep going. They can't shut you out forever. Getting a job just takes longer in these days of crisis, corruption, and generational inequality. That nagging question, "Is it the job crisis, or is it me?" – ask me as many times as you like, the answer will be the former, the former, the former.
The trouble with jobhunting remains that it divides us into a million separate, lonely pieces when we should be clubbing together as a community to keep ourselves, and each other, afloat. We are the #Pyjarmy! We're in this together: we complain together, we rejoice together, and when my Guardian contract ends and I'm out on my arse again, by god we will drink together.
If you know anyone who's in need of a community to keep them afloat during their jobhunt, please pass this on to them. Send them my Twitter handle. Tell them they've got someone to email/tweet their woes to. I started this blog because I felt alone, and needed someone to laugh with. When I got the Guardian job, my family were happy and my friends were a mixed bad of reactions, with more backhanded compliments than I ever hope to hear again. The overwhelming response was from the How to Be Jobless community – tweets and messages of congratulations and hope (see a selection at the bottom of this page). Sometimes all you need to get you through is a community, someone who doesn't say stupid things like "But why don't you just…GET a job?" or "It must be lovely to have all that free time!"
The jobless trenches are grim, so don't go it alone. Join the #Pyjarmy.