Today Only:  50% Off Crochet Shuttle Tatting Craftsy Course
Online Shuttle Tatting Class
Tatting is a technique for creating beautiful lace work by making a series of knots and loops.  It's a popular technique for making lace edging, doilies and collars but it can also be used for many other projects including beautiful jewelry!
Craftsy offers a course, Shuttle Tatting with Marilee Rockley, that I have been eying for sometime.  This morning I received an e-mail saying that for today only the course is 50% off!  I will be enrolling in the course and wanted to share this opportunity with all of you.
Below is the description of what you can expect to learn during the course and what projects you will complete from the Craftsy class website.
What You'll Learn in Shuttle Tatting
The basic lark's head knot and double stitch
Creating lace patterns with chains, rings and picots
How to read vintage patterns and where to find them - free!
Setting up and winding shuttles, choosing thread and fixing mistakes
Advanced techniques: reverses, joins and beadwork, node stitch, floating and split rings
Bonus techniques: split chain, lock stitch chain, and block tatting
What You'll Make in Shuttle Tatting
Little flowers and butterflies for practice
Floret Earrings
Classic Edge Bracelet
Rhapsody Necklace
Parfait Snowflakes
Below are some pictures from the Craftsy website submitted by students who have taken this course.  I am so excited to take the class and I can't wait to post pictures of my future tatting projects.  Hopefully, after taking this course I will be able to create my own tatting patterns to share.
If you would like to take advantage of this opportunity you can register by clicking on the link below.
Online Shuttle Tatting Class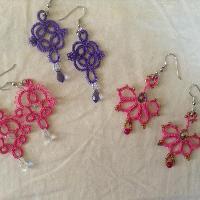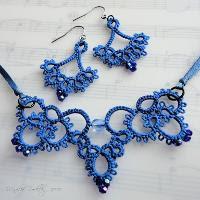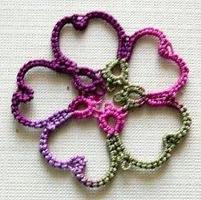 *Disclaimer:  I participate in the Craftsy Affiliate program.  However, all opinions are my own.