I'm sure you've all seen Salma's amazing engagement shoot. I absolutely loved her pictures, and it really got me thinking for the first time about an engagement shoot of our own; Richard's and her pictures are so natural, in an interesting setting, and, most importantly (to me), weren't corny or clichéd at all!
Looking at Salma and Richard's, then afterwards browsing through a few other pre-wedding shoots on English-Wedding and other blogs it really made me realize that engagement shoots don't have to be lovey-dovey, nauseatingly sweet shots of your fiancé 'Hollywood kissing' you in the local park. I've since discovered that you can make the shoot relaxed, unpretentious and a fabulous way to reflect yourselves as a couple.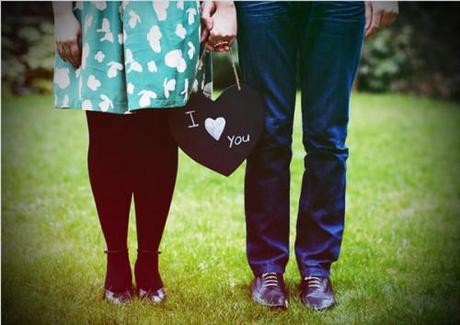 (Part of english-wedding's engagement shoot competition back in February)
Here are some I especially love:
Elsie and Jeremy's "Comic Book Love"- I love how this on tells a story, and reminds me of a 'story book' I once made David for Valentines (The Story of Sal 'n' Dav.. and, no, you can't see it!)
Terri and David's shoot as featured this week on English Wedding- The "How to be a good.." books are fabulous! It made me think of more little props such as blackboards to write little love notes for the photographs too.
Carlos and Angel's whimsical 'old fashioned Valentine's day' shoot- I don't think I could pull this one off, but it's such beautiful photography and styling, and I love the photographs which aren't of the couple but reflect them anyway. Magical. (I also loved recognising loads of the props from Etsy!)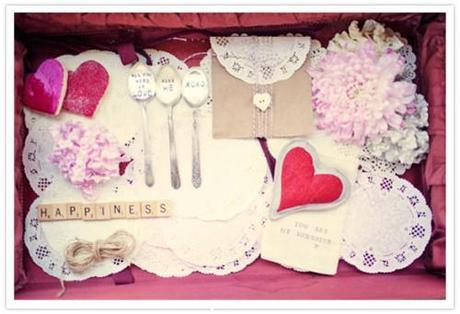 Carlos & Angel, courtesy of 100layercake
However, initially, before I swamped myself in everything 'wedding', I thought engagement shoots were a bit pointless; as my maid of honour, Louise, put it: "What's the point? It's like- 'here's us two weeks before the wedding', and you look exactly the same as the pictures on your wedding day. Isn't it just a scam?" I must admit, I couldn't think of any argument for engagement shoots when she said that, and part of me feels the same. The other part of me thinks: "Why the hell not? We're only going to get married once, and it's an excuse for some lovely pictures of us both that we could then cherish forever?" Louise's other statement unfortunately made complete sense: "And you and David both hate having your picture taken"- again, completely true and I couldn't agree more! I genuinely believe I started getting into photography because I hate being in front of the camera, and would much rather be behind it!
So, there's my dilemma! Louise is completely right (as usual); David and I are not overly keen to get in front of the camera, and it is quite indulgent.. HOWEVER, I am a complete sucker for beautiful photography, and really would cherish a set of beautiful (non corny!) photographs reflecting us at this stage of our relationship; I'm sure we'd relax into it and probably even end up enjoying ourselves! Also, anyone who I've emailed and enquired about in the North East doesn't do engagement shoots or have stopped doing them; so if anyone has any recommendations or suggestions for us to look into we'd be very grateful.
Advice please, we're still thinking about it, and I think David needs a bit more persuasion than I do!
Sally x