And it's about as long as my arm…
I was going to write a cutesy Valentine's Day post about how much I love my husband… because he really is the greatest thing ever. And about how much I love my kid, because she ties him for the greatest thing ever (except today…she got up at 0330). Or about Willow, since I'm hoping she'll stop trying to kill me in the near future. Or the dogs, because Jack Jack isn't pooping on the rug anymore.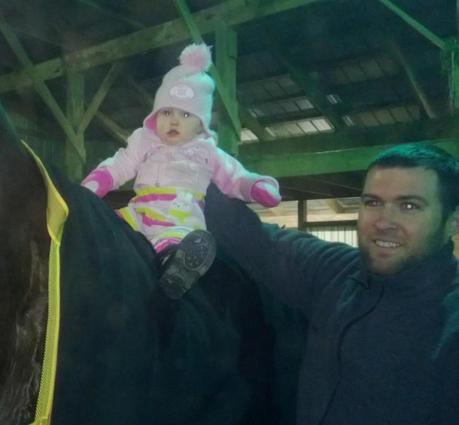 For all that the mare can be naughty… she seriously loves this kid.
But in reality, we have so much to do. Our PCS deadline is closing in way too fast. Shannon turns one in a few days (what the fruitbat!). I'm getting my ducks in a row to jump into small business (perfect timing, right?). And we're preparing for an 18 + hour trip with a small child, two dogs, and 80% of our wordly possessions.
So what do we have left to do? Everything…
Sort through the house and organize what we're taking and what the movers are packing? Nope!
Clean out my stuff at the barn, decide what I'm going to leave with Willow and what I'm going to take? Nope!
Get Dixie's microchip installed? Nope!
Make reservations at stop #1 of our roadtrip? Nope!
Be really excited about spending a WHOLE DAY with my friend Ashley, combing the backsides of the racetrack to find pretty ponies?  Check!
Get animal vet records together in one spot? Nope!
Replace stupid iPhone so I don't worry about being separated from my husband on the drive because of an equipment malfunction and being lost forever, eventually to be rescued by the Amish and forced into their way of living? Check!
Eat all the food in the house, so that the movers don't pack half boxes of cereal along with the cat and the garbage? Workin' on it.
Get Shannon's birthday present? Nope!
Get decorations for Shannon's birthday party? Nope!
Thoroughly research the layout of our house and design it via Pinterest? Check!
Find a new home for Willow? Nope!
Convince my child that biting is not the solution? Nope!
Convince Willow that biting in not the solution? Nope!
Figure out what to do with these new side bangs? Nope!
Plan fun and educational stops along our roadtrip route (bonus points for clean bathrooms!)? Nope!
Clip, trim, pull, and beautify Willy so that she doesn't look like a feral beast when she makes and appearance at her new home? Nope!
As you can see… I've gotten most of the really strenuous stuff out of the way. Pinterest was a real arm twister, I tell you! This lifestyle, with it's constant change is something that I'm trying to embrace. In reality, I'm nowhere near organized enough and Mike will probably end up doing most of the heavy lifting while I yell at the movers to 'Don't you dare scratch my saddle' and whine because I won't see Willow for almost a month (not that I'm worried… she's in AMAZING hands). He's better at that stuff anyways and I just concede because it's what makes our marriage work.

I hope that you all have an amazing V-Day (hallmark holiday that it is, and all)! I'm going to go snuggle with my family in bed (since Shannon was up at 0330 this morning) and enjoy the day!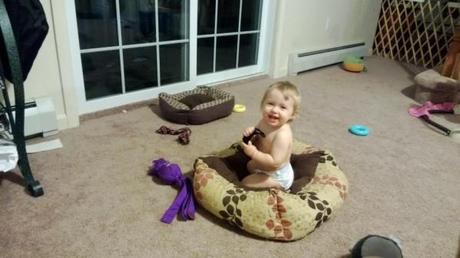 <3 to you all!