Last year as part of my role as a PR peep at Mater*, I was asked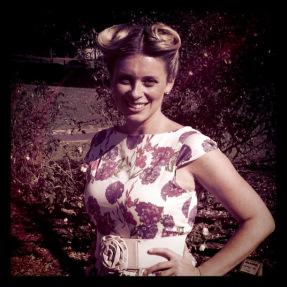 to get my
vintage glam on for a photo shoot promoting Mater chicks in pink's Breast Ever Brunch.
Breast Ever Brunch is a cheeky fundraising campaign calling on ladies to catch up with their 'breasties' over brunch and raise much-needed funds for breast cancer support services and research at Mater.
Being quite fond of my own pair of baps and a little fearful of the statistic that one in eight Australian women will be diagnosed with breast cancer at some stage in their life—that's 2500 Queensland women a year—I immediately said yes.
I'm of the school of thought that, fingers crossed, by doing my bit for the cause, karma will keep me and my girls (that being my friends and loved ones, not my 'girls') cancer-free!
Besides that, I love any excuse to flash my pearly whites and get my head in the paper and this time there was the added attraction of a hair and makeup artist.  What I didn't envisage was that after a frenzied attack by our hair/makeup guru, I'd be left with a hairstyle that resembled baked goods … but more about that later (yes, keep reading!).
The photo shoot, which took place in the beautiful rose gardens of New Farm Park gave me a brief glimpse at the world of modelling and it was hard work. Especially as the 'non-model' in the picture!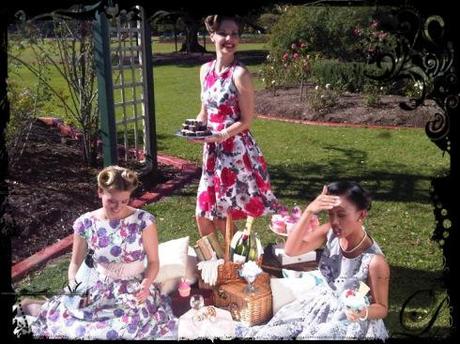 A break between photos.
"Right, it's me. I'm on my way in. Everything's completely under control this end, how is it with you? Lights… Models… Guest list?… Just do your best, darling." – Eddy, Absolutely Fabulous
While I'm a bit of a photo tart, I'm no Zoolander. My look is less 'Blue Steel' more Cheshire cat with a big toothy grin and, given that I was in the company of professionals, there was some serious posing required on my part.
Back straight. Chin down. Arms out.  Stomach in. Don't squint. Look up. Pour champagne into glass (and all over my skirt). And the instructions just kept coming.
What didn't help matters was that two minutes after I had popped myself into a pretty floral frock, lent to me by friend/fashionista Leah, I split the zipper. I bet Jen Hawkins doesn't have to put up with that crap … when all goes pear-shaped, she just steps on her skirt, flashes her knickers and everyone applauds what a fabulous derrière she has!
With my fashion disaster briefly remedied ,thanks to some well place bulldog clips, I tried to be serious but then the jokes about my hairdo started.
While the other girls looked like they'd step off the set of Pearl Harbour, all glammed up with smooth waves, mine looked like a cross between Princess Leia and cheesymite scrolls**.  But I still rocked it!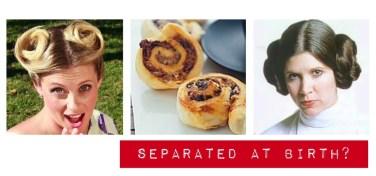 Three long, hot, sweaty hours later, the shoot was finished and I celebrated as all non-models should … by scoffing down the brownies that featured in the shoot! And I enjoyed every last bite.
So, with my face plastered across posters, flyers and soon to be tea towels, I've taken it upon myself to be the unofficial ambassador for Breast Ever Brunch and encourage you all to get involved!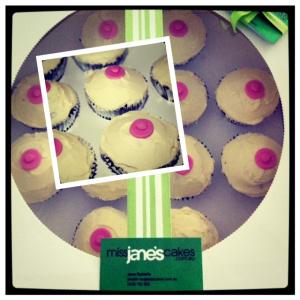 Just have brunch with your 'breasties' and make a donation to Mater chicks in pink.
Last year my lovely friend Jane, of Miss Jane's Cakes, whipped up the 'breast' cupcakes I've ever seen, but anything goes … sweet or savoury, homemade or store-bought. 
I'm sure we each have eight ladies we love—mothers, grandmothers, sisters, aunts and friends—and I know I definitely don't want any of them to go through the battle that is breast cancer if I can help it!
And ladies—don't forget to cop a feel of yourself regularly to check for abnormalities such as lumps, pain or any other changes!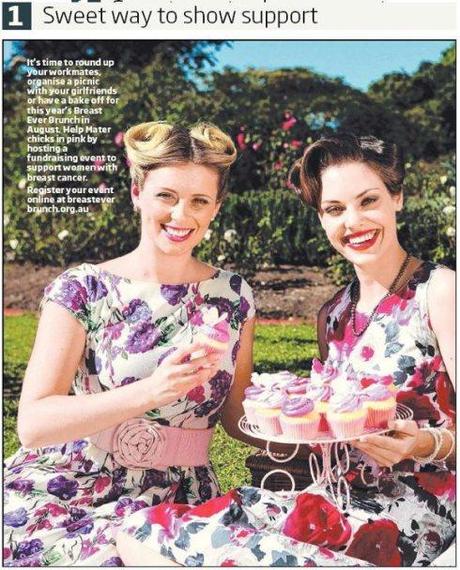 The chosen image … City News, 26 July 2012
* For those international visitors, Mater Health Services is a not-for-profit health care provider which cares for half a million Queenslanders each year. We operate seven hospitals, a medical research institute, pathology and pharmacy businesses.
** A cheesymite scroll is a baked food item popular in Australia. It consists of a spiral of baked bread, similar to a pain aux raisins with Vegemite and cheese in place of raisins.