Hello!
You know what they say about the best intentions - my plans to get back blogging so I can share some of my favourite fashion finds like I used to in U on Sunday (and quirky stories and rants) fell by the wayside as I juggled the return of work (hurrah!) and also helped my family prepare to open (well, re-open) Falvey's Hotel Yamanto.
I can't wait to show you some before and after photos of our pub renovation, but first I thought I'd share a few of my favourite things from Birdsnest.
I was lucky enough to pop down to Cooma (home of Birdsnest) in early August-right before the borders closed-to spend two days with the team modelling some of their new arrivals. I shared lots of behind-the-scenes videos, which many of you loved, and an IGTV of some great pieces (check it out here).
In the blink of an eye, winter has gone and spring has arrived bringing with it these bright and beautiful pieces perfect for dopamine dressing (dressing yourself happy) and putting a little pep in your step.
Plus, enjoy free express delivery all weekend when you shop and use the code 'SUNNYDAYS' at the checkout before midnight Sunday October 11 AEDT. Sorry, excludes international orders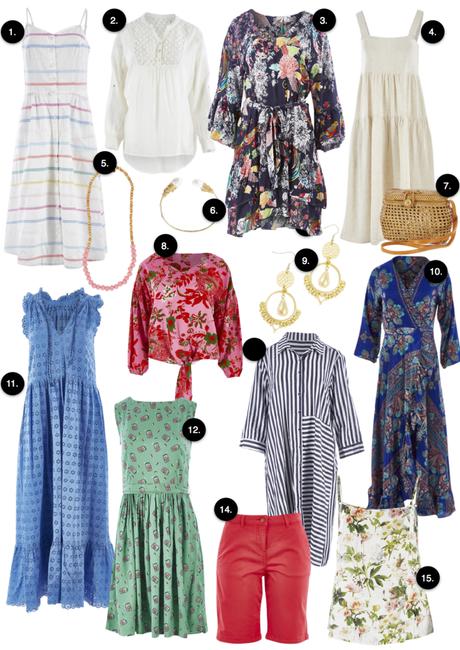 1. Joules Abby Button Through Strappy Dress, $149.95 || 2. Boho Bird Old Time Romance Blouse, $119.95 || 3. Lula Soul Poly Dress, $179.95 || 4. Sass Solei Dress, $89.95 || 5. Greenwood Designs Mini Wood & Rock Necklace, $34.95 || 6. Eb & Ive Dynasty Cuff, $39.95 || 7. Scandic Gypsy Alice Rattan Bag, $99.95 || 8. Kita Ku Printed Tie Top, $89 || 9.Isle & Tribe Anacapri Island Luxe Earrings, $29.95 || 10. Cienna Ciara Dress, $99.95 || 11. Hatley Emma Maxi Dress, $179 || 12. Pretty Vacant Lauren Dress, $129.95 || 13. Bird Keepers The Striped Shirt Dress, $99.95 || 14. Joules Cruise Longer Length Shorts, $79.95 || 15. Boho Bird Down The Garden Path Linen Tank, $89.95
Main image: Joules Fifi Print Shift Dress, $149.95
Do you have a favourite piece from my selection? If so, let me know in the comments below.
Editor's note: This post is not sponsored, however it contains affiliate links. That means if you click on a link and buy something, I will earn a small commission from the brand-at no additional cost to you.