To work frantically and attempt to catch up.
All kinds of things to share with you today.  First I want to mention Kay O and her blogwww.thisisthecraftyone.wordpress.com for her fabulous and unexpected Christmas card that came in the mail several days ago.  (If you'd like to see pictures of it they are one the twitter account).  It was beautiful and I wish I was able to get my cards done faster this year so I could reciprocate and send cards out to not only Kay but some of my other favorite bloggers and readers.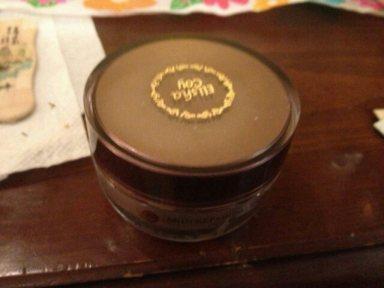 That's not the only thing I received from the UK this week either.  The wonderful Hannah Ackroyd hosted a giveaway on her blog and I was lucky enough to win.  The giveaway was a "Skin repairing snail cream" and it came in the mail just a couple days ago. Just in time to help me cure the dry skin this winter weather has been causing.  I obviously haven't had much time to use it, but it seems to work great and has kept my skin from feeling as dry as it normally.
I also have a rather pitiful (but at least they're finished) number of Christmas crafts to show you.  I've only managed four this year which is well behind last year's number.  I had about 25 ornaments finished before it was even close to Christmas.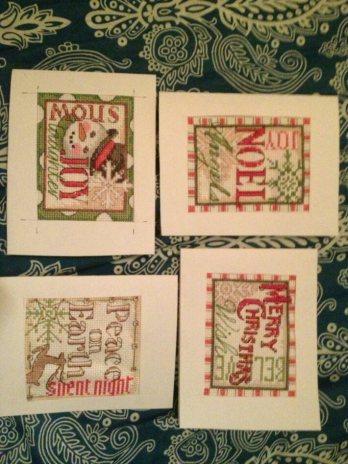 As you can see I've only managed to get four what were initially intended to be ornaments finished.  What I've decided is to turn them into cards this year and send them out as Thank-You notes for graduation and Christmas presents.  This way I'm able to give all my friends and family a little something without spending money I don't have and I have a little more time to get things finished.  I've already sent these out so at least four of my relatives will think I'm on the ball and I have one pattern that's almost finished and ready to be turned into a card.
Now, there's no where near me where I'm able to get Apeture cards and I obviously didn't have time to order them online, but I found something that worked even better.  I had an entire tablet of acid free artist sketchbook paper sitting around (I'm not sure why, I don't draw) but it's thicker than construction paper and feels almost like cardstock.  So I got out a ruler, pencil, and razor to cut out the front of my card and hot glued the cross stitch piece behind it.   The back is a little ratty because I didn't sew on a backing and I didn't glue more paper to the back of the pattern (which I might try for the next set to see how it works).
Well, I think that's all for now.  I should have my first two Christmas book reviews up Friday so keep an eye out for that.  And hopefully I'll have some more Christmas card progress to share with you over the weekend.