Hello Summer- Summer time is always the best of what might be. Drink lots water, eat your veggies, fruits are yummier and ice-cream solves everything. Especially in India most summer holidays comes with lots of carnival of food, high calories and heavy diet food as most of the wedding occurs in summer or pending parties waiting for kids holidays, camping outside or just following a fine dine table, summer eating is full of daily delight. Summer is the time when food looses its freshness early and at the same time higher going temperature doesn't allow fatty foods to digest easily and good for healthy summer eating. We don't ask you to go on a diet of course summers aren't meant for dieting. But learn how to make summer eating healthy to a formal or everyday Indian meal.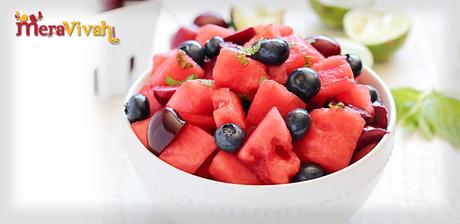 Healthy Fruits
Make your morning juicy by eating healthy fruits that are loaded with antioxidants and fiber. This type of fruits burn stored fat and are delicious too. Cherries, berries, watermelon all can be added with cereals to give it a yum taste. Make all fresh fruits of summer available at your home more instead of junk food. Introduce them to your kids and elders in the morning.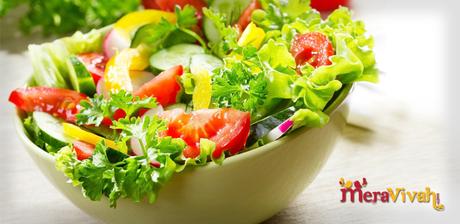 Daily Delight
Just to put things in perspective. Select the food you make everyday with less spices, fat, oil, cheese, butter etc. Make a light meal, make it simple and give them added worth with curd a must in summer, yummier salad recipes includes combination of hale and hearty veggies cabbage, green soybeans, tomato, potato, onion, beetroot, and carrot or make fruit mixed chat with fatless creams. Spinach soups with bread crumbs make it a good starter. Top up proteins with sautéed vegetables (green soybeans, onions, tomato's, peppers). Eat healthy food that compliments its fabulous taste.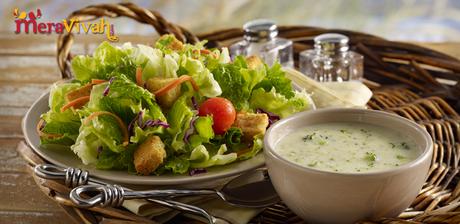 Be Careful While Eating Partying or Outside
While attending dinners, fine dine or any wedding just be careful because you are not sure how fresh it is, go for soups, salads or one course meal, accept desserts if you love to but avoid oily and junk ones. Don't overload your stomach. Eat less, healthy and which can burn your hunger to enjoy more.
Making the Most of summer – When you imagine summer a fresh breeze pass by. Make it a healthy summer eating days happier and yummier by involving the rustle up of healthy and authentic recipes in your daily meal that includes more of nutrients, fibbers and antioxidants. Add curd and sprouts in your daily diet. Eat more cakes, pizzas, ice-creams but for that find a time for some workout in the fresh air of morning and summer evenings. Drink lots and lots of water; be safe from direct sunlight, stay healthy enjoy summer. Relive your childhood.
Comments
comments