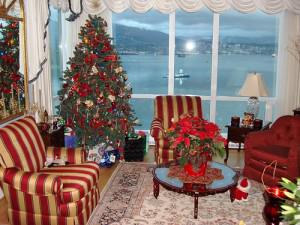 Here are some ideas and tips to make your Christmas a bit greener. If you have a party in the works, start with some eco-friendly e-invitations, then try these tips to make the party green:
Decorations
Try to incorporate fresh flowers, LED lights, and all-natural products into your party decorations.
   Flowers
Add fresh flowers as ornaments into your garland, wreath, and even on your tree.
Fresh roses are a great accent for placeholders or napkin rings.
Suspend a fresh flower pomander from a high ceiling or stairwell for a dramatic effect when entertaining.
Add flowers and ribbon to your gift wrapping. If you are not adept at bow-making, just put your flowers in a water tube and hide it all in a gift bag with tissue. It will spring up when the bag is opened.
A small bouquet of mini-flowers is a wonderful wine topper.
LED Lights
Light-emitting diodes will keep the spirit flowing while not sending your electricity bill through the roof. A simple 60-bulb string of LED lights over your fireplace or garage door will glow just as bright, yet use 80 percent less energy than incandescent holiday lights of the same length.
LEDs also…
Last 50,000 hours or more
Are built to last for a long time
Are a safer alternative to incandescent lights because they remain cool and pose little fire hazard
Will not overload an electrical circuit
Are easily replaced, and when one blows out, the rest of the string stays lit
Natural Items
Create displays and holiday decorations using natural items like twigs, plant pods, and pine cones. This can be a great family bonding event. Stroll through your yard or local wooded area and scoop up anything that catches your eye. Consider painting the pine cones with festive colors.
There is no need to buy potpourri when you can make it yourself. Step 1: Purchase a small potpourri scantier. Step 2: Fill it with some water, cinnamon sticks, and whole cloves. Step 3: Place a lit tea light candle beneath the bowl. Monitor the water level so that it continually simmers, filling your home with a natural scent.
**FINAL TIP**
Here is a great tip for the kitchen this holiday season. Don't be lazy! Plastic utensils and plates are wasteful and end up clogging up our landfills. It may be a pain to wash all those dishes, glasses, forks, knives, and spoons after a party, but so what? It is much more environmentally conscious to use your actual dinnerware. Your dishes are reusable and the earth will be eternally grateful for your extra effort.
Will you be serving appetizers, yet don't have suitable plates? No worries, just purchase a cheap set and reuse them each year. As your party starts to empty out, slowly start loading the dishwasher and you will have less to do later on.
Join in the discussion in the comments below and/or share the piece.
Photo credit: 



 Some rights reserved by steveleenow