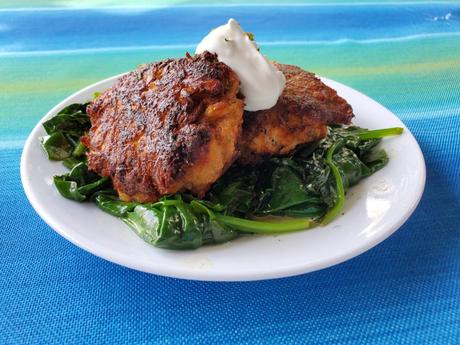 These are some tip-top Crab Cakes! I have found an economical way to maneuver through this troubling time. Buy fish and seafood! These crab cakes are a wonderful way to use up the few items that are generally left available to buy in the grocery store these days. They are out of everything else, but grocery stores here almost always have fish and seafood. I've been having my son-in-law bring what he can find, since I am not allowed out until April 30th. Unless of course it is for the pharmacy or doctor. My SIL can't find much in the way of beef, chicken or pork but he can find frozen and sometimes fresh fish and seafood.
These crab cakes are a version of a recipe I saw on the Valerie Bertinelli cooking show. I copied it down as fast as I could and we all thought it turned out great. It was my son-in-law's birthday on Thursday and we are on lock-down, like most of the country. So, no party and no steak. I made these crab cakes and he loved them!
Everyone: Please take care of yourself and follow all the rules set up or strongly suggested by your governor. I want everyone to be well!
They are easy and use items you probably have in your pantry or fridge right now - except for the crab of course!
Tip-Top Crab Cakes
4 slices white sandwich bread, crusts removed
1 pound jumbo lump crab meat, picked through for bits of
shell
1/4 cup mayonnaise
2 green onions, finely chopped
2 teaspoons finely grated lemon zest
1 teaspoon Worcestershire sauce
1 teaspoon seafood seasoning, such as Old Bay
1/4 teaspoon hot sauce, such as Tabasco
Kosher salt and freshly ground black pepper
1 large egg, lightly beaten
5 tablespoons unsalted butter
1 small clove garlic, thinly sliced
1 pound baby spinach
1. Pulse the bread in a food processor to make coarse
breadcrumbs; transfer to a large bowl. Add the crab,
mayonnaise, green onions, lemon zest, Worcestershire,
seafood seasoning, hot sauce, 1/4 teaspoon salt and a few
grinds of pepper. Mix gently to combine. Add the egg and
mix gently but thoroughly.
2. Form the mixture into eight 3-inch-wide crab cakes.
Refrigerate for about 30 minutes to set slightly, I generally let them set for about 2 hours if I can.
3. Melt 3 tablespoons of the butter in a large nonstick skillet
over medium heat. Cook the crab cakes, in batches if
necessary, turning once, until golden brown on both sides
and heated through, about 4 minutes per side. Transfer to a
large plate and cover loosely with foil.
4. Melt the remaining 2 tablespoons butter in a large pot over
medium heat. Add the garlic and cook, stirring, until
fragrant, about 2 minutes. Add the spinach, in batches if
necessary, and cook, tossing, until just wilted. Season with
salt and pepper.
5. Divide the spinach among four plates and top with the crab
Serve with a wedge of lemon to squeeze on top. Garnish with a dollop of sour cream, cocktail sauce, or a remolaude.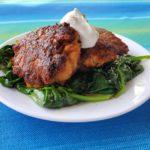 Tip-Top Crab Cakes
Serve with a wedge of lemon to squeeze on top. Garnish with a dollop of sour cream, cocktail sauce, or a remolaude.
Filed Under: Tagged With: Fish and Seafood crab, crab cakes, fish, saving money, seafood