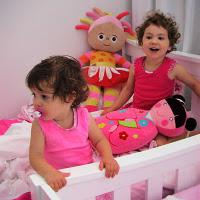 It's no secret that this is a craft blog and that I have a loooong list of crafty blog posts yet to publish, but I found two photos that I wanted to talk about.  The first is one of mine; where my two little daughters are sailing a ship / living in a castle / hiding in the wicked-witches' house... it was a while ago now, and the game went on for a long time (in toddler-time), changing constantly.  I saw it this morning while looking through my files for something else and it reminded me to say; "use your imagination" - you and the kids.  Organised activities are a great thing, but made-up, spontaneous fun, without rules, without 'sensible' structure are just as wonderful... maybe more so.
The other photo I found was on Flickr (the owner gave me permission to link to it):
http://www.flickr.com/photos/kellyhogaboom/6293353894/in/photostream
I LOVE this photo; I love the picture's title, the costume, the one shoe missing, that she's asleep with a lollipop in her hand, and that it seems like everyone else seems to be sitting still and quiet in a ring around her while she's sleeping in the middle!  Pop across and love it too.
We're off to the fun-park party in less than an hour and the girls are very excited... better go!