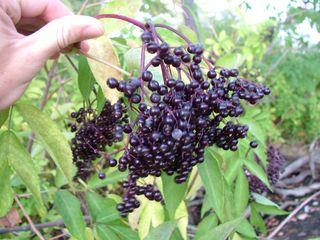 PIcture Courtesy of http://www.treeplantflowerid.com
When I was a little kid I used to go riding at this wonderful farm about 3 miles from my folks store. Actually as the story goes, my mother the Brownie troop leader took our troop there and when it came time for me to cross the Brownie bridge to my mother's chagrin I refused. Shaking her head and knowing that there wasn't' any turning back she asked me what I wanted to do. "I want to spend every day at the pony farm with Dolly" I said. So mom arranged it and it began one of the most significant chapters in my life. 
Dolly was a wonderful Southern woman, a bit like Granny Clampett only she also had a Doctor for a husband. She raised and butchered her own chickens and Muscovy ducks and she made the best Elderberry wine and tonic. She taught me all about the plants that she had growing on her 36 acres and oftentimes would send me out with a basket to gather plums, strawberries and blueberries and in the springtime, Elderberry Flowers because she made the most delicious fritters! She was the first person who ever put a rifle in my hands because she loved to go hunting and my mother trusted her. She taught me how to deliver a foal. The one time that I saw her all dressed up I didn't recognize her because for all those years I'd never seen her in anything other than jeans and Wellington boots. I loved her. She's been gone for quite awhile now and I still miss her everyday.
By now you can probably tell where I come from.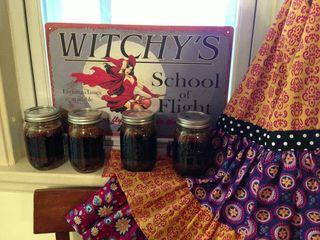 Handcrafted Immune Support Tonic
So here in Northeast Ohio it's raging flu season and Elderberries are definitely one of the best immune support weapons that we've got in our natural arsenal. We've all had the flu in this house  and I refuse to get it again AND I refuse to get the shot. I just don't trust it and so many people that I know who've gotten the shot have gotten the flu anyhow. So I mixed up a batch of my favorite Immune Support tonic and I thought that I'd share the recipe here. This batch has home infused blueberry vodka as it's base, but you can use just plain vodka. I love to infuse my own with fresh summer fruits and herbs and that way I've got it in the thick of winter when I need it. This particular batch was infused with fresh summer blueberries, lemon balm and sage. I add mullein to help cleanse and refresh the lungs and linden to help soothe the nerves. Lemon to help flush the liver.  Lots of raw honey to soothe the throat and plenty of ginger , cinnamon and other spices to help boost the antibacterial qualities of the tonic.  It really tastes good and that's before it's steeped for a bit. 
You will need: 
Large clean mason jars with tight fitting lids 
1/3 of a cup of Elderberries for each jar
1/3 of a cup of elderflowers for each jar
 4 tablespoons of dried mullein
4 tablespoons of dried linden flowers
Half a teaspoon each  of cinnamon, fresh ginger and cardomom
3- 4 heaping tablespoons of raw honey 
1 sliced Meyer lemon
Vodka to top it all off
It's simple after all of that. Put the herbs, spices and lemons into the mason jars and add the honey. Cover to the top with vodka, stir briefly,   close the lids tightly ,  shake the jars a few times and let them sit on the windowsill for about 4 weeks (although I've been known to break into it sooner!) Open the jars and strain each into a pitcher, stir to blend.  Using a funnel,  decant the tonic into small dark glass dropper bottles. 
I love to put this into tea or it's good enough to take straight when you feel a bit under the weather. Making your own tonics and tinctures insures that you've got the quality you want and the energy that you want. There's nothing nicer than taking care of your family with tinctures and tonics that you've crafted yourself with all of your love. Trust me, they'll totally notice the difference!
If you'd like some of this it will be for sale in a few weeks. Just send me an email at [email protected] and let me know!
Please feel free to stay in touch with me at  http://www.facebook.com/bethschreibmangehringholistichealthcoach or www.bethschreibmangehring.com