Cross posted from Deep Green Resistance News Service
By Alex Budd / Deep Green Resistance Cascadia
It is important to note that this analysis and perspective is not meant to be authoritative on, nor instructive towards the objectives, organization and operation of Agenda 21; those are always their own to determine, as they see fit. This is definitively an outsider's perspective, gleaned from publicly available information, and is undoubtedly lacking insight in various ways. Apologies for such inadequacies.
*DGR SUPPORTS THE EFFORTS OF AGENDA 21 AND ALL MILITANT DIRECT DISMANTLING OF INDUSTRIAL INFRASTRUCTURE*
It doesn't take much to sink a ship.
The physics of buoyancy are somewhat precarious; thousands of pounds of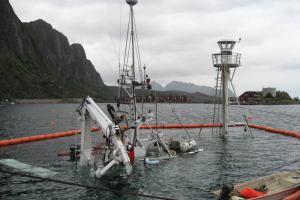 iron & steel, carefully shaped to stay balanced and afloat. The smallest rupture in the hull can drag all the sophisticated design and calculations to cold and watery depths. In some instances, one may not even need to create a rupture, so much as expand existing weak-points—like the salt water intake valve—to submerge a vessel.

That simple technique has become the calling card for a mysterious organization in Norway, which has been targeting the country's whaling fleet since 1996. They're called Agenda 21, the name being a reference to the 1992 UN Conference on the Environment in Rio de Janeiro, which proposed an international "sustainable development" program under the name Agenda 21. To date, they've claimed responsibility for the sinking of 6 commercial whaling ships.

The style has been more or less identical in each of the attacks: the group scouts a ship, boards at night, and opens the salt water intake valve in the engine room. They've been more successful in some instances than in others; in a 2010 attack, a ship alarm alerted the captain the ship was flooding, and the sabotage was discovered before the vessel had fully sunk. Nonetheless, they've been engaged in a campaign of underground direct action for close to two decades, and have maintained effective security; to the police who have investigated the actions, Agenda 21 is as mysterious today as it was when it emerged in 1996….

Agenda 21 remains at large, as it has been for 16 years. It is difficult to talk about their organization and function, because they've done such an impeccable job of keeping any knowledge of themselves—other than their name and their actions—secret. However, there are still lessons to be learned and new insights to be gleaned in regards to strategic underground action.

To operate successfully for so long demonstrate an undeniable conviction as an organization, but also a careful patience, a keenness that ensures action is effective rather than simply self-actualizing and serves as a counterweight to the (often) blind urgency that strong conviction can fuel.

However, others have questioned whether Agenda 21 has been effective in the fight to end commercial whaling, or whether the organization has been just another group using glorified tactics but making little material difference. Critics point to reports that the numbers of whales killed in the summer season haven't declined, or that there is a surplus of whaling ships and simply too few processing centers for the meat.

Continue Reading –>