My daughter is not the biggest fan ever when it comes to fish; however, this recipe was a huge success with her, so much that she wanted me to pack any leftovers for the following day's lunch at school. Indeed, the combination of flavours is special and unbelievably tasty.
Ingredients: - 6 tilapia fillets (any other mild fish is equally suitable) - 1 head of garlic, medium - 1 tsp hot paprika - 2 tsp sweet paprika - 1 small chilli pepper (optional) - 2 medium yellow onions, chopped - 1 tbsp ground cumin - 1 1/2 cup tomato juice - 1/8 tsp ground all-spice - zest of 1 lemon - 6 tbsp olive oil - 1 handful black olives (I used Kalamata pitted olives) - 1 bunch fresh parsley, chopped - salt and pepper to taste
Grate the garlic and mix half of it in a bowl with half the ground cumin and all-spice, 2 tbsp olive oil, all the sweet and hot paprika and the chopped fresh parsley (my mixture doesn't have the paprika, I had forgotten about it and added later, when making the sauce)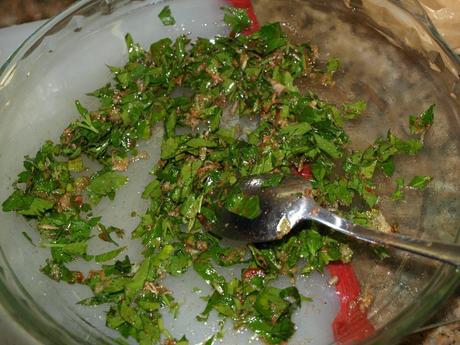 Carefully coat the tilapia fillets on both sides with this mixture and refrigerate for at least half an hour.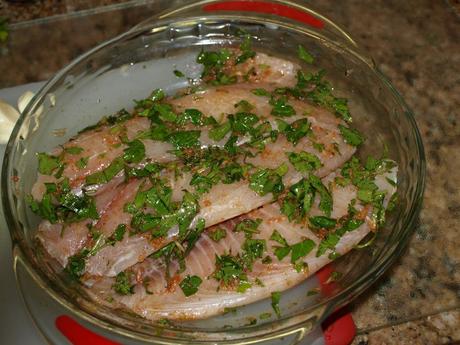 Time to take care of the sauce: heat the remaining 4 tbsp of olive oil in a pan, then saute the chopped onions and the remaining garlic together with the chilli pepper (I added now the forgotten paprika :D)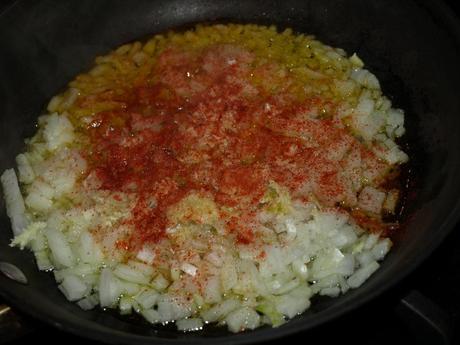 When the onion is translucent, add the rest of ground cumin and all-spice, stir and allow to cook for another minute or two. Add the tomato juice and the lemon zest, cook for 3 minutes.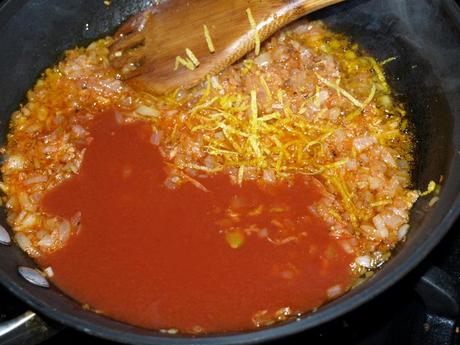 If the sauce is too thick, add a bit of water (no more than 1 cup), then carefully place the fish fillets in the pan and cook for 8 minutes on medium heat. Add the olives, salt and pepper to taste (if needed)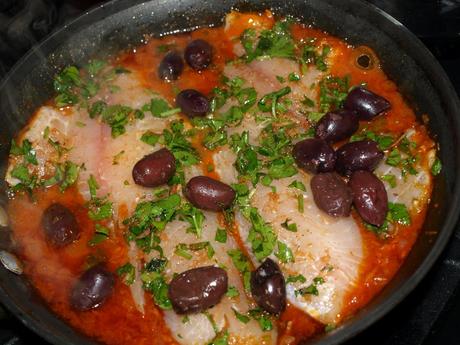 then place the fish in the preheated oven, at 450F for about 15 minutes (depending on the thickness of the fillets). And this is what you're looking for: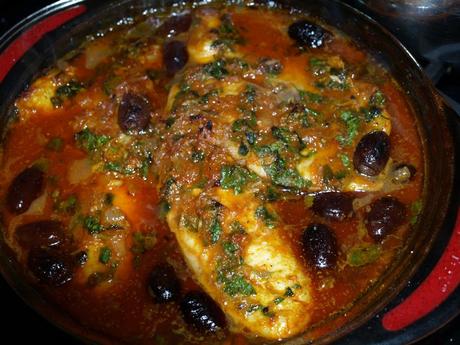 Can be served with or without a side dish. For adults, a good accompaniment would be a glass of dry white wine. Enjoy!