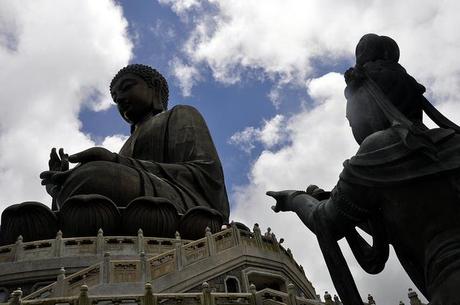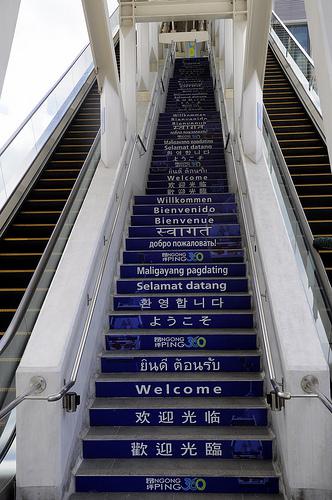 Our second day  in HK for the lack of better word was eventful and tiring at the same time.  It was summertime in Hong Kong when we decided to visit the Tian Tan in Lantau island which is  said to be one of  the largest seated outdoor bronze Buddha.   We took the train going to Lantau via the Tsuen Wan line before making a stop in Lai King station towards the Tung Chung line. What  seems to be a long journey was actually fun as it was a delightful escape from the city.  I got to see a different view of HK aside from the skyscrapers and busy streets.
We walked towards Citygate Outlets after our exit in Tung Chung station.  It's a shiny happy shopping mall that made the wife excited to skip visiting Lantau.lol Voicing out that it's  still early to do shopping for our HK schedule, she eventually agreed to my terms. As there was a long queue for the regular cable car we took the crystal cabin instead.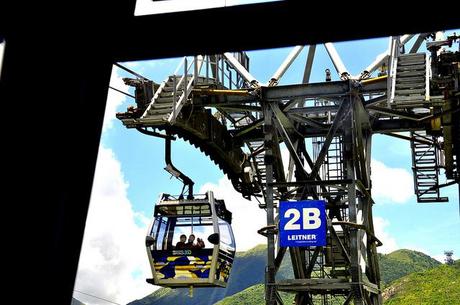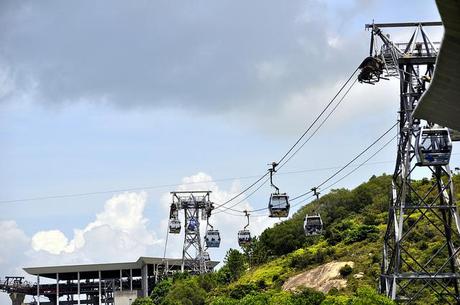 It's a fun and unnerving way to explore the whole Lantau Island. Upon boarding the cable car, my knees were shaking when the sudden gusts of wind whooshed the cabin.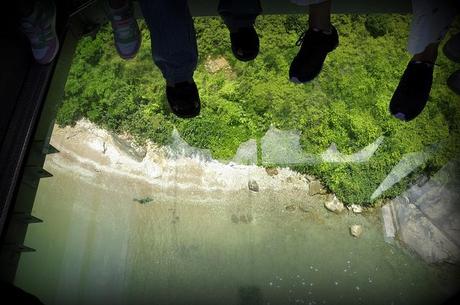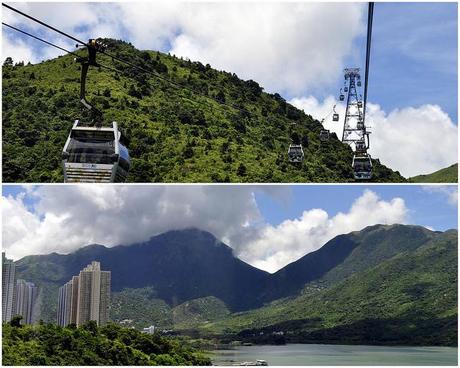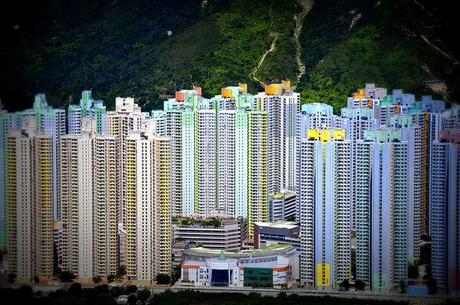 Starting and sometimes ending every words that came out in my mind with  sharp cussed because of the dizzying heights.  It was an awkward moment of sorts as we were seated with a Chinese family chattering in a language that I can't comprehend. I finally got a hold of myself as soon as I saw the stunning view of Tung Chung bay, HKIA, Ngong Ping plateau, Lantau North Country Park and of course the Tian Tan Buddha Statue. To my surprised there were waterfalls and scenic hills that one would not expect in Hong Kong. The ride is something that I'll always remember.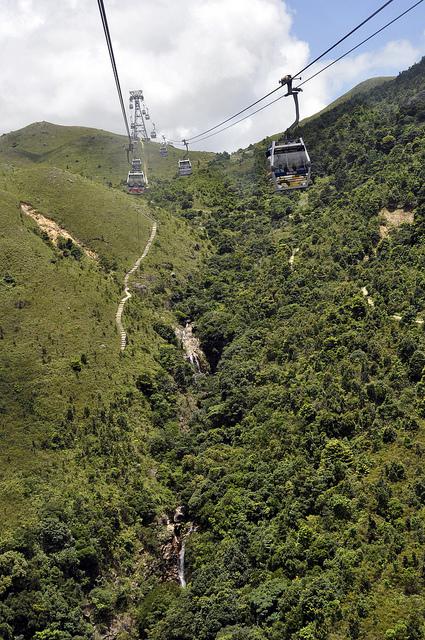 waterfalls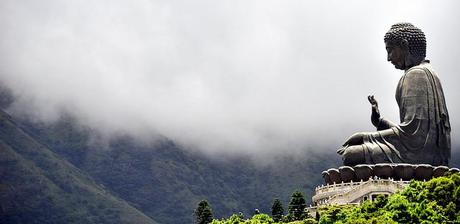 Tian Tan Buddha as seen from the cable car
 The cabin finally descended Ngong Ping terminal. The deceptively calm of Ngong Ping village was shifted into cheers and jeers. Getting closer to the packed crowd, we found out that  there was a shaolin showcase wherein visitors can join the performance. Going here is supposed to be some sort of spiritual settling but it felt very much out of place. It has become too much commercialized as there were souvenir shops, a bit of shopping and Starbucks. Realizing that we spent quite a while walking around the village we went to see the big Buddha.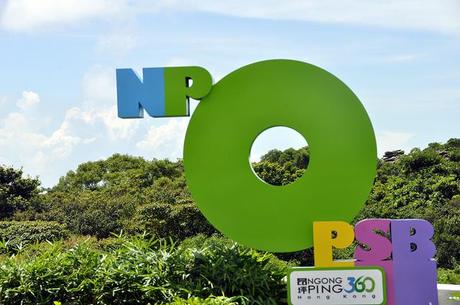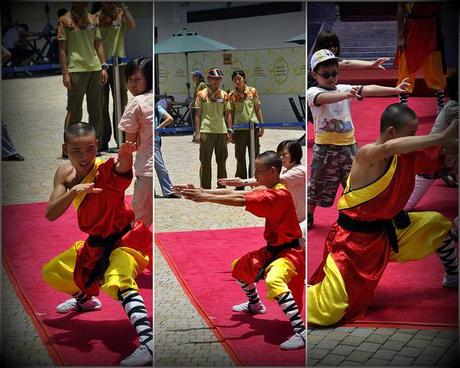 Shaolin Showcase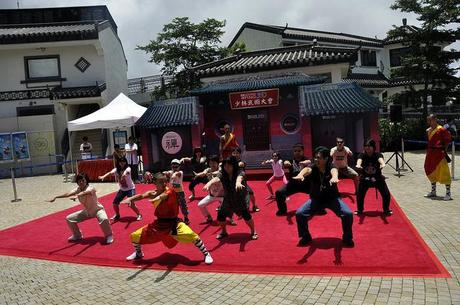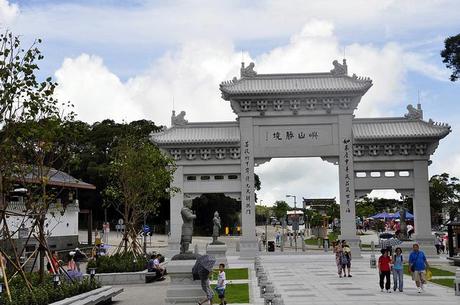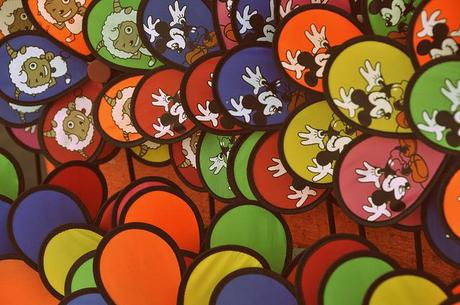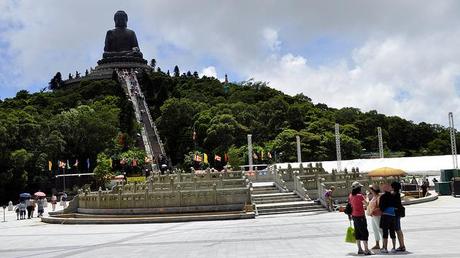 From the ground, the size of the Buddha is stunning.   As we climbed the steps the warm sunshine was replaced with cool  breeze and gloomy sky.  Worried that rain might pour even before we reach the giant Buddha, we hurriedly hasten our pace.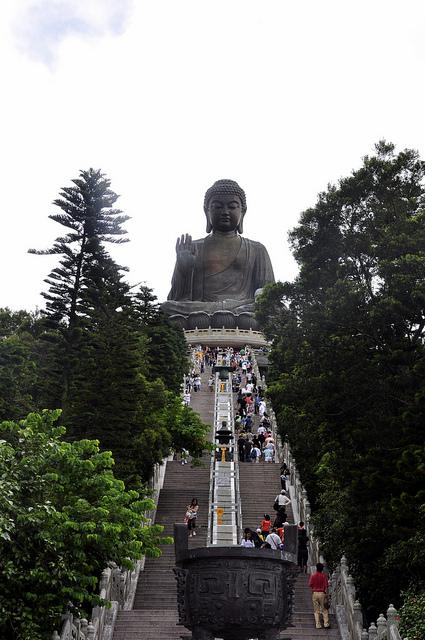 I was profusely sweating despite the cool  winds gushing in from nearby mountains. The climb was tiring yet it was all worth it.   HUGE – that's  only the word I can think of to  describe  the Tian Tan Buddha.  The Tian Tan appears dignified as six-smaller bronze  statues surround it also called "The Offering of Six Devas". Inside  the Buddha is a small museum but we just enjoy the view outside since there are Buddhist devotee within the area.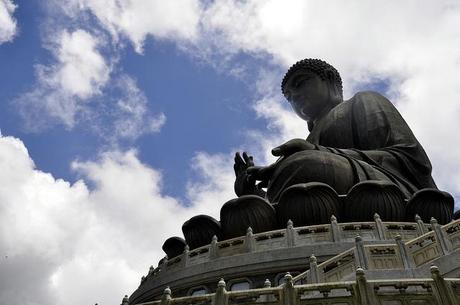 His right hand is raised, representing the removal of affliction.The Buddha's left hand rests on his lap in a gesture of giving dhana. The Buddha faces north, which is unique among the great Buddha statues, as all others face south. -wikipedia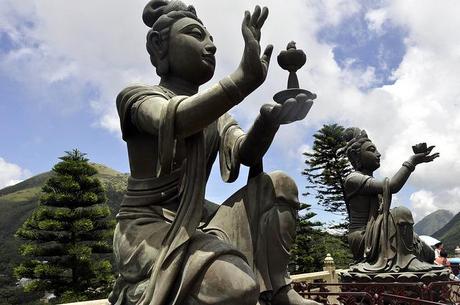 "The Offering of the Six Devas" and are posed offering flowers, incense, lamp, ointment, fruit, and music to the Buddha. These offerings symbolize charity, morality, patience, zeal, meditation, and wisdom, all of which are necessary to enter into nirvana - wikipedia

We spent time walking around and rewarded with spectacular views of mountains meeting with the sea. It gave me an overwhelming sense of happiness just being on this place. Buddha must have heard my prayer as the sky was clear again.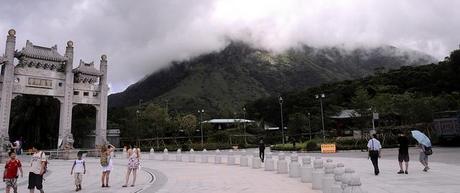 After Tian Tan we go down  to Po Lin monastery.  Founded in 1906 by three monks visiting from Jiangsu, it is said to be one of the oldest standing structure in the Ngong Ping area. The incense filled the air as worshipers bowed into four directions offering prayers. It's a solemn ritual that I didn't bother to take pictures of.  And the smoke coming from the incense was a bit unbearable for me as we head back to Tung Chung.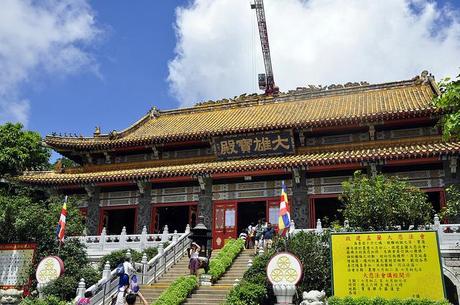 Po Lin monastery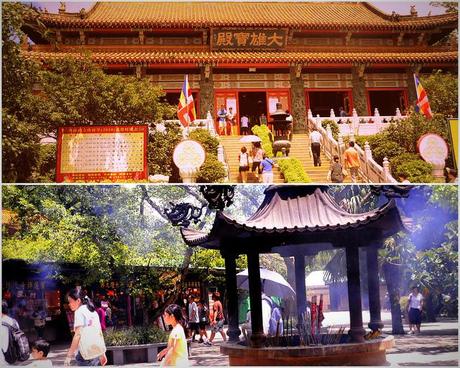 To fill in our day we had our lunch and grabbed bargains in the Citygate, a streamlined mall with plenty of space to move around and authentic brands at discounted rates.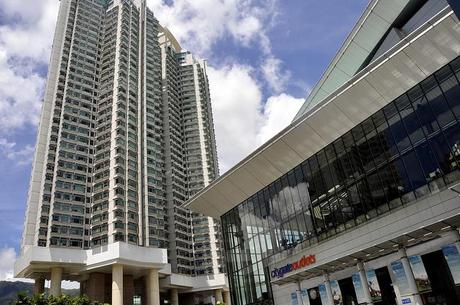 Citygate Outlets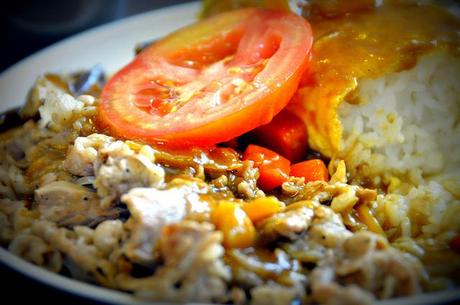 Sumptous lunch in Food Republic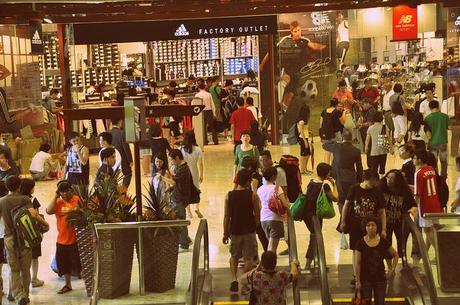 Shopping nirvana in Citygate