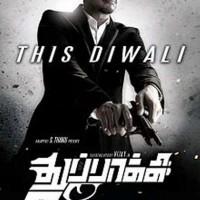 Movie: Thuppakki
Cast: Vijay, Kajal Aggarwal, Sathyan, Jayaram, Mano Bala and Vidyut Jamwal
Director: A.R Murugadoss
Rating: ***
Thanks to A.R Murugadoss, Vijay steps into the shoes of a new avatar that comes as a welcome surprise for his fans and critics alike.  Did Vijay succeed in his new avatar is the question that audience walked home with after watching the film? Well, partially yes and no is the answer. Although, Vijay shines in his avatar for the most part of the film, as an avid follower of Murugadoss, one may still feel that the film could've been way better. Nevertheless, "Thuppakki" is definitely one of the best Tamil action-thrillers of recent time.
Vijay aka Jagdish, a captain in the Indian army, is currently returning home to Bombay to get married according to his parents wish to a girl of their choice. At this juncture, we're introduced to two different sides of Vijay – duty-fearing and family-loving.
Cut to next scene, Jagdish is seeing Nisha, played by Kajal Agarwal, at the bride-viewing ceremony. Jagdish says no to Nisha citing reasons that she's too old fashioned and homely for him. But, quite contrary to her image at home, Nisha is a spoilt brat on the outside. Jagdish happens to see her other side at a boxing match and instantaneously falls head over heels for her.
Meanwhile, during a local commutes in a city bus, Jagdish happens to miss death by a whisker. He sees the bus in which he was few minutes back blown to pieces. But, fortunately Jagdish nabs the guy who planted the bomb and soon finds out he's a sleeper cell. With just few days left, Jagdish should find out what's the next target of several other sleeper cells in the city. Will Jagdish stop what's about to unfold forms the rest of the story?
Vijay's character stinks of Sherlock Holmes style detective skills and for some reason he likes to play alone. Although, he's accompanied by his close friend Sathyan, who happens to partly remember us the role of Dr. Watson with sick jokes-cracking ability, yet, there's so much of similarity in the characters, but on the whole it's an entertaining film with adequate moments of "Vijayism".
The film is tightly woven together by a crisp screenplay that'll keep you hooked to your seats. Had only the director chopped few minutes from the film, undeniably this could've been an engaging 2 hours and 45 minutes. The love plot could've been easily avoided because it seems to have made no difference to the film.
The film has some of the best National Award winning technicians such as Thota Tharani, Sreekar Prasad and Santosh Sivan, who've certainly taken the film to the heights no other Tamil film of the recent past managed to reach. Santosh's cinematography in particular is top notch, while Sreekar's editing is brisk and highly professional.
Most of the characters are made to look dumb such that Vijay steals all the attention. Kajal's role as a boxer, which she squanders with her clichéd performance, is definitely a turn off in the film. Jayaram and Sathyan, who're supposed to be making us laugh, fail miserably in the process.
Except for two tracks, Harris's music falls flat. Thanks to the pulsating background score, "Thuppakki" has few moments of high-octane action mixed with energetic music.
In essence; "Thuppakki" has the energy of Vijay and intellect of A.R Murugadoss.