Hey Dolls! I hope everyone is enjoying there weekend! It's Throwback Saturday so I kinda randomly picked one of my "Beauty Tip of the Week" posts that I used to do. If you've been following my blog since the beginning you probably remember that every Wednesday I posted a beauty tip. I'm thinking about maybe starting that again, I stopped because I started running out of tips to share with you guys. Let me know if you like reading beauty tips, if you do I will start that up again :) The post below was written on November 16th, 2011 and it's tips on how to apply blush from Bobbi Brown. I'll shut up now and let you read the post :)
Beauty Tip of the Week
JUST ADD COLOR!
BOBBI BROWN'S TIPS ON BLUSH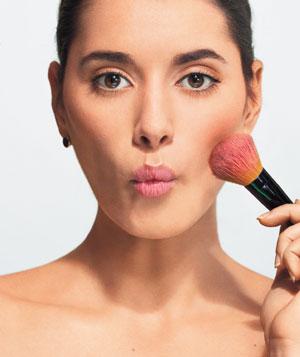 I'm sure you have all heard of the makeup artist Bobbi Brown or at least of her makeup products. If you haven't she's an internationally reowned makeup artist and CEO of Bobbi Brown Cosmetics. Her products are sold in more than 400 stores and 20 countries worldwide. In addition to her creating cover looks for magazines, working with models, fashion shows, etc. She's also the author of two New York Times bestsellers. I have one of her books, Bobbi Brown Beauty Evolution. It's a really good book and she's filled with tons of tips and tricks.
So for this week's beauty tip I thought I would share a few of her tips on blush and give you a break from my boring tips lol. She has a whole chapter dedicated to blush and its called Just Add Color. Here are some of Bobbi Brown's best tips when it comes to wearing blush:
Bobbi's Guide to Just the Right Blush of Color
Porcelain Skin: Pale pink or pastel apricot (never use bronzer or brown toned blush; it will look dirty on your light skin)
Fair Skin: Sandy pink tones
Medium Skin: Tawny brownish pinks
Tan Skin: Deeper brownish  rose
Latin or light black skin: Plum, golden brown,  or deep rose
Black Skin: Dark or deep bronze or deep red
The second shade: For an extra pop of color: choose anything that's a bit brighter than your regular blush and one that works well with your lipstick
Bobbi's Blush Rules
Find a color that makes you instantly healthy
The right blush should practically blend itself. If you have to work to blend it, the color is too dark or too bright.
Own two different shades: one that looks totally natural and is the color of naturally flushed cheeks, and one that's a bit brighter for a pop of color
In a pinch, use your lipstick on your cheeks as you would cream blush
To apply
, smile at yourself in the mirror and dab the blush on the apple of cheek, blending up into the hairline. The trick is to also blend down to truly soften the color and make it look like it belongs on your cheeks. Then add a pop of a brighter color just on the apple of the cheeks to guarantee that you don't look washed out in an hour. The same basic technique applies to using cream blush.  Dot it on the apple of the cheek and use your finger to blend it up to the hairline and down. 
Is this how you usually apply blush or do you have a different technique? I personally never check to make sure my blush practically blends into my skin like I do with foundation. I hope I haven't been walking around looking like a clown! lol
Click the links below :)
Follow via GFC
Follow me on Twitter
Like my Facebook Page
Follow me on Bloglovin