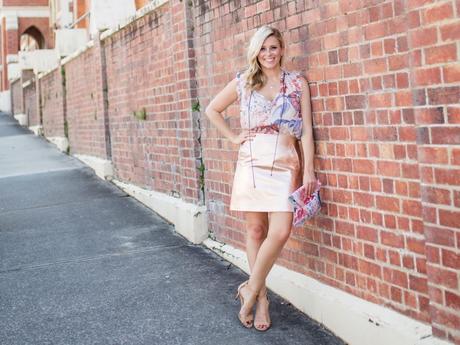 The fabulous Bec and Lou at Australian label Arlington Milne recently sent me a beautiful parcel featuring a couple of pieces from their new Spring Summer 18/19 apparel range and I was so excited when I discovered a gold Leather Mini Skirt among the goodies.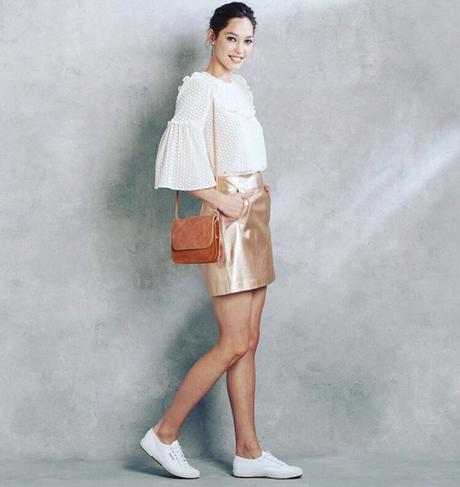 There's nothing like a metallic mini-skirt for when you want to have a good time, and with the festive season almost upon us, this beauty, with its flattering A-line cut, is sure to be on high rotation.
A metallic mini skirt may seem like something that would be difficult to style, but nothing could be further than the truth-metallic is pretty much a neutral (at least in my eyes), so here are three ways I'll be wearing this glorious gold leather mini skirt this summer:
With silk:
This beautiful Botanical Print silk blouse is also from Arlington Milne (It also comes in Cobalt and Ditsy Daisy (cobolt floral) and as one of their key prints this Summer, there are multiple pieces available including dresses, shorts, tops, skirts and small leather goods.
This sleeveless blouse has a beautiful ruffle trim and a self tie detail from the neckline and is made from the softest, floaty silk. It's so feminine and pairs back beautifully with the gold of the skirt.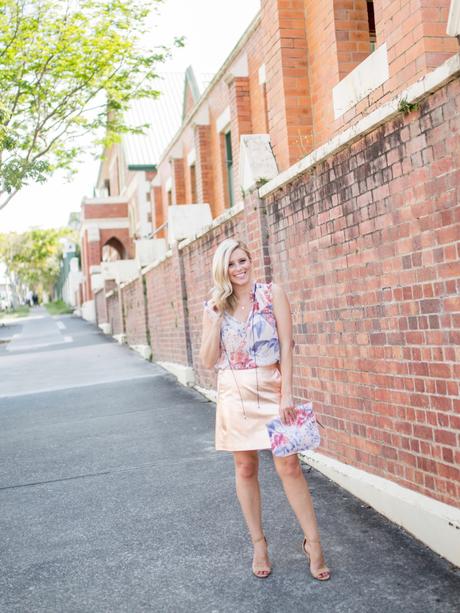 Get the look: Botanical Print blouse | Leather Mini Skirt | Botanical Print Clutch | Heels
With stripes
For the weekend, I swapped out the silk top for my favourite striped tee and sky-high leg-lengthening nude heels, for a pair of low leopard print kitten heels, creating the perfect outfit for a brunch date before heading to the shops to tick some last-minute errands off my to-do list.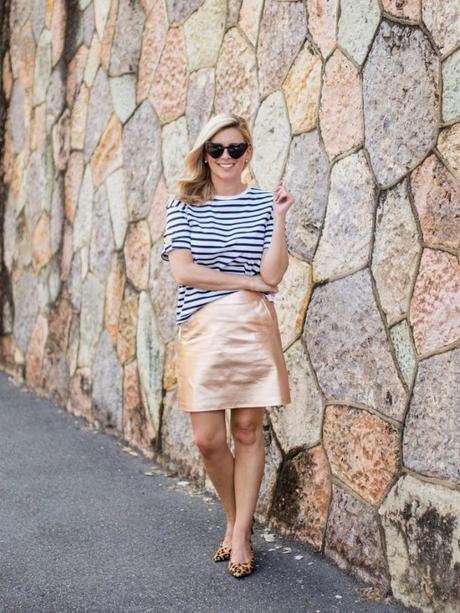 Get the look: Stripe tee (similar here) | Leather Mini Skirt | Leopard heels| Sunglasses (similar here)
With a button down shirt
By making your favourite metallic piece the highlight of your outfit and toning down on everything else, you can create a look that draws attention to your desired focal point without being too over-the-top.
And that's exactly what I did for the Brisbane Fashion Month Resort Finale late last month-pairing the leather skirt with a white tuxedo style shirt which I've had for years, and the look scored me plenty of compliments (mostly questions about where I'd found such a fabulous skirt).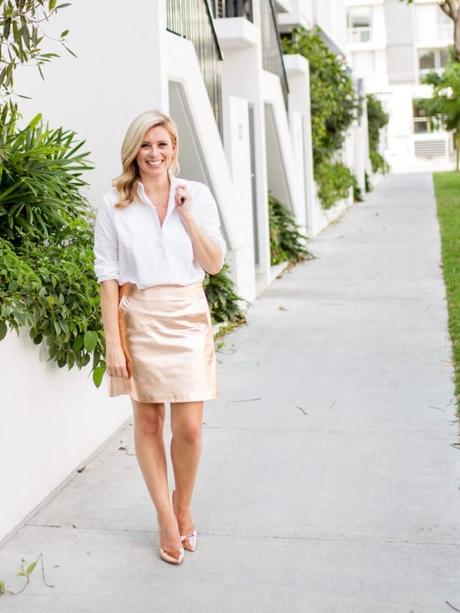 Get the look: White shirt (similar here) | Leather Mini Skirt| Rose Gold Heels (similar here)
Finally, metallic skirts are not only super fun for summer, they're great for layering with tights, baggy sweaters and more when the weather cools down.
So expect to see this little beauty popping up on my Instagram a lot over the next six months!
Editor's note: These items were gifted to me for editorial consideration. See my full disclosure policy here.
Follow Blonde Ambition on WordPress.com
For all partnership and collaboration inquiries please contact me directly at [email protected]
BLONDE AMBITION ARCHIVES
Today's @teamstylefile style challenge prompt was #stylefilefloral and this @shein_au pink floral pleated midi skirt was the first thing I saw that fit the bill when I looked into my wardrobe this morning. I teamed it with my @mummyswish limited edition Fabulous & Floral tee which has become a bit of an unofficial uniform in the office. _________________________________ #mummyswish #mumswithcancer #mwFabulousandFierce #everydaystyle #onwednesdayswewearpink #streetstylefashion #funfashion #floral #joy #slogantee #fabulousandfierce #brisbaneblogger #love #style #fashion #brisbane #womenwithstyle #fashionblog #styleblogger #brisbaneanyday #sydney #melbourne #realstreetstyle #streetstyle #fblogger #realoutfitgram #ootd #perthfashion
Fruity hues || In the latest @uonsunday I shared my tips for how to squeeze the most out of your summer wardrobe by embracing delicious citrus hues and let me tell you, it makes a refreshing and zesty combo! _________________________________ #uonsunday #fashioneditor #sundaymail #summerfashion #styleblogger #everydaystyle #ihavethisthingwithcolor #bonitakaftans #liveeverystep #sheikestyle #brisbaneanyday #queensland #brisbanefashion #citrus #summertime #over40style #colourpop #afforablefashion #30plusstyle #sportsgirlstyle #bethatgirl #spotmystyle #dressfun #styleatanyage #australianfashion #ootd #springstyle #realmumstyle #austeacherstyle
What constitutes 'workwear'? I guess it depends where you work. Thankfully, I work somewhere that lets me wear stripes and overalls to the office. So as part of today's #SpringStyleFile #stylefileWORK challenge, I give you, today's workwear-an old @witcheryfashion stripe tee, my favourite @yourockstyle_ denim overalls (kindly gifted), and pops of colour provided by my @hm earrings and @nextofficial_au shoes. ________________________________#fashionchallenge #yourockstyle #yourockstylebabes #tasseltuesday #everydaystyle #denim #stripes #teamstripes #ootd #stylechallenge #blonde #joy #springstyle #shoesaddict #brisbane #brisbaneblogger #styleatanyage #30plusstyle #iwillwearwhatilike #dressfun #fashionblogger #fashionista #streetstyle #stylish #hairgoals
**WIN A $300 SHOPPING EXPERIENCE WITH ME** Summer is just around the corner and I've teamed up with @dfoinsider @dfo_brisbane to give one lucky winner a $300 shopping experience with me next Monday afternoon to update their wardrobe! Here's how to enter: 1. FOLLOW @dfoinsider and @what_brooke_wore 2. COMMENT below on why you NEED this wardrobe update. 3. TAG a friend(s) for bonus entries. Entries close at 11:59pm on Thursday 15 November and the winner will be announced on Friday 16 November over on @dfoinsider . Please note that by entering you are agreeing to appear on a short video segment of the shopping experience for promotional purposes and are available from 12pm on Monday 19 November should you be drawn as the winner. *This contest is in no way sponsored, administered, or associated with Instagram, Inc. By entering, entrants confirm that they are 13+ years of age, release Instagram of responsibility, and agree to Instagram's terms of use. #DFOCollab ________________________________ #giveaway #shopping #dfobrisbane #dfo #giveawaycontest #giveaways #brisbane #imprettychuffed #spotmystyle #everydaystyle #brisbaneanyday #brisbanefashion #brisbaneblogger
Tomorrow @maiocchi_ will officially launch her summer collection, Home Sweet Home, with a party and fashion parade in Paddington. Among the pieces being officially released is this gorgeous embroidered cotton Home Truth Dress which also comes in black and the Honey, I'm Home and Domestic Bliss dresses which I've previously showed you. #mymaiocchi _________________________________ #everydaystyle #maiocchi #ihavethisthingwithcolor #style #love #joy #brisbane #brisbaneanyday #brisbaneblogger #wiw #ootd #fblogger #fashionblog #fashionable #blondehair #outfitideas #brisbaneblogger #spotmystyle #30plusstyle #sugarrepublic #streetchic #streetstylefashion #ootdguide #sydney #melbourne #stylediary #styleinfluencer #styletips #时尚
It's been a while between stripes so I thought I'd show off this gorgeous @huntkellylabel Becca Stripe Dress which I first spotted on the runway at the ManUp! Fashion Parade and High Tea a few weeks ago. Made from a soft rayon, it was perfect for beating today's heat. I also added my red belt and heels for an extra pop (it was just a coincidence I matched the @cakeandbake.co wall!) Photo @katelukephotography #huntkellylabel ________________________________________________________#brisbanefashion #everydaystyle #love #stripes #teamstripes #monochrome #red #30plusstyle #fashionover30 #brisbaneanyday #brisbaneblogger #styleblogger #ihavethisthingwithwalls #cake #spotmystyle #style #fashion #shirtdress #melbournefashion #sydneystyle #styleatanyage #ootd #dressfun #wardrobestaples #friday #friyayvibes
Statement skirt || With new deliveries arriving weekly, a shopping trip to @tkmaxxau is a little like going on a treasure hunt; a fun, fashionable treasure hunt. I'm no good at math but even I know that finding this skirt (by a big US designer) for $69.95 when it retailed for $485 was a massive win. Guess who took home the skirt and the (self proclaimed) prize for best find? Me, that's who. If you're heading out to check out the brand new @tkmaxxau store at Skygate, near the Brisbane Airport, or your local @tkmaxxau, I'd love to know what you find. #TKMaxxAU #YesWay #workingwithTKMaxx ________________________________ #colourblocking #dopaminedressing #ihavethisthingwithcolor #colorful #everydaystyle #love #brisbaneblogger #lmbdw #lmbdwbrisbane #brisbaneblogger #australianfashion #fashionover30 #spotmystyle #30plusstyle #ootdfashion #lookbook #wiwt #blogger #streetstylefashion
Tropi-cool || While hunting down this season's hottest palm prints, I found an article which predicted the trend would be OVER by the end of 2014. Ha. How wrong they were. If you can't jet off to a tropical island this summer, keep cool in luxurious looking leafy prints. BYO cocktail. 🌴 ________________________________ #uonsunday #fashioneditor #summerfashion #tropicalprint #leafprint #styleblogger #everydaystyle #ihavethisthingwithcolor #brisbaneanyday #queensland #sundaymail #brisbanefashion #afforablefashion #love #style #30plusstyle #melbourne #sydney #summerfashion #spotmystyle #dressfun #styleatanyage #streetstyle #australianfashion
Wrapped for the win || The only win I had today was in the fashion stakes with this Asymmetrical Wrap Midi Dress which I found in @targetaus for $39. It's was perfect for celebrating Cup Day in the office, and will also make a great party dress for the festive season. ______________________________ #melbournecup #wrapdress #stylefilespring #foundattarget #targetaus #targetauswoman #everydaystyle #realstreetstyle #makeyousmilestyle #styleatanyage #30plusstyle #OOTD #instafashion #happystyle #fblogger #whatimwearingtoday #dressfun #fashionblogger #fashionista #streetstyle #stylish #instastyle #lookbook #realoutfitgram #fashiondiaries #whatIwore #wiwt #lotd #outfitgoals
Copyright. Blonde Ambition 2018. All rights reserved.