Perhaps you are raring to find out how to achieve the perfectly chic ponytail. As it is, your attempts usually end up with your own version of chic ponytail looking much like a disaster. With the many ponytail hairstyles, women want to enjoy a classic and chic style, one that is easy to do and perfect to wear at all types of occasions.
If you desire to achieve a chic ponytail hairstyle, you simply must follow these easy steps: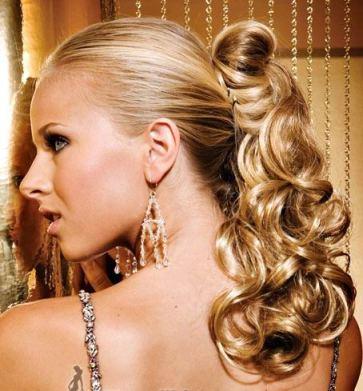 1. Curl your hair
This is an important initial step to achieving a chic ponytail style, especially if you have a wavy or straight type of hair. It is vital that you position your curling iron in a vertical way in order to achieve small and cute curls one section at a time. If you have existing curly looks, you simply apply or spray some anti frizz hair product to add more bounce to existing curls using the hot iron.
2. Add volume to the hair
You must work on a small portion of your hair at a time. Do teasing actions gently as you go straight into the roots. This step is meant to add the necessary height and volume to the hair. Hairspray must be applied after you finish working on a section. As soon as you are done in all sections, you will have achieved great hair volume. It's time to comb the top hair layer in order to smooth any knots or bump.
3. Apply some chic and style
Finally, you may collect all your hair into the back, creating a low side-positioned ponytail, specifically at the rear portion of your ear. Tuck in any loose strand to ensure a totally clean and sleek look. Secure everything with a strong rubber band. To make the style of your ponytail more chic, you can add in accessories such as small ribbons or rhinestones.
Needless to say, ponytail hairstyles are not anymore ones that will cause you to experience bad hair days. More and more fashion experts want this type of hairstyle for their models at major fashion runway shows. Celebrities prefer to don it at important red carpet events. These are reasons why you should have it as your own hairstyle as well. You only need to follow these easy steps and you are on your way to flaunting a hot and chic hairstyle at any time of the year.
Image Source: Cosrock