Wedges are must-have shoes for every woman's closet. The comfortable and popular shoes and sandals are versatile and perfect for any look. They can be worn with different outfits and for different occasions. Knowing how to wear the sandals will help you to look and feel good.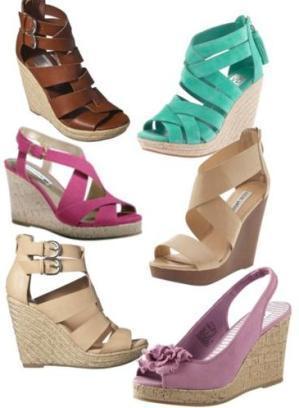 Choosing the height
You need to determine the best height for the occasion. As a rule, a low wedge sandal is perfect for the casual look, while a high one is ideal for the edgy look. If you are wearing shorts for an afternoon in town, the low wedges will complete the look perfectly and if you want an evening or sassy look, 3 – 4″ wedge heels are perfect.
Choose the style
The wedges come in a wide range of styles and some styles are more comfortable than others are. Wedge sandals with a strap tend to be more comfortable than slip-ons. A versatile sandal in a neutral shade will complement most of your outfits. Regardless of shoe fashion trends, simple wedges in a minimal design tend to be timeless compared to those with adornments. Choose the style that makes you comfortable depending on the occasion. The type or materials of the heel will also determine the style.
Shape of the heel
You can select a slim or chunky heel depending on the size of your legs and ankles. Chunky heels are ideal for thick legs, while slim styles are perfect for slimmer legs. Decide on the best heel depending on your legs.
Choosing the color
Wedge sandals come in virtually every color, ranging from neutral colors to colorful designs and patterns. Colored sandals will tend to attract attention to your legs and you need to decide the statement you want to make. The best colors will also depend on the season and the occasion.
The versatility of wedge shoes makes them perfect for women of all ages. It is clear that even as shoe fashion trends come and go, the wedges are here to stay. Whether you prefer pump or basic strappy wedge sandals, keeping the look chic and fresh will make you feel great!