It's a big day in the football world, the playoffs! 
Now I have a confession to make.. I'm not a very big football fan. I really only view it to make my boyfriend happy. I love him and he loves football so I support what ever team he roots for. 
However, one part of football that I can relate to is the food! Who doesn't love game day food? Chips, pizza, wings... it's a junk food lover's paradise. Another great game day food is chili. Not to mention it goes so well with the cooler weather. Even though the cold days seem to be few and far in between here this year. I love a good snow storm and we are long overdue!
Anyway back to the chili... I came up with this recipe to try and make something that is usually on the heavier side a little lighter and more nutritious. Chili makes the perfect vehicle to sneak extra veggies into, especially if you have some picky eaters at home.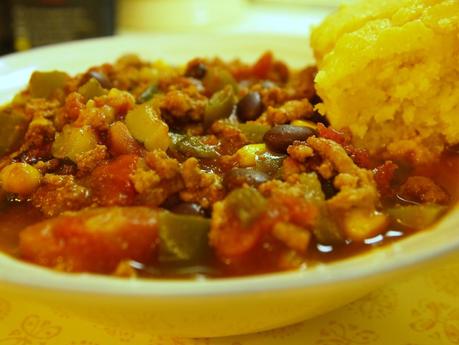 Three Pepper Slow Cooker Turkey Chili
2 Tbsp Olive Oil, Divided
2 Packs Ground Turkey (1.3 lbs ea.)
2 Green Bell Peppers, chopped
2 Cubanelle Peppers, chopped
1 Poblano Pepper, chopped
1 Large White Onion, chopped
2 Zucchini, chopped
3 Garlic Cloves, minced
1 (15 oz.) can Black Beans, drained and rinsed
3/4 cup Frozen Corn
2 (28 oz.) cans Muir Glen Fire Roasted Tomatoes
3 Tbsp Chili Powder
2 Tbsp Cumin
1 Tbsp Paprika
1 tsp Cinnamon
Salt and Pepper to taste
1) In a large pot heat 1 Tbsp of the olive oil over medium-high heat. Place both pack of the ground turkey into the pot and brown completely. Drain the turkey and set aside for now.
2) Add the other 1 Tbsp of olive oil to the pot and turn the heat down to medium. Add all the chopped peppers and the onion to the pot and let cook for about 4 minutes until slightly softened. Then add the zucchini and garlic cloves and let cook for an additional 2 minutes.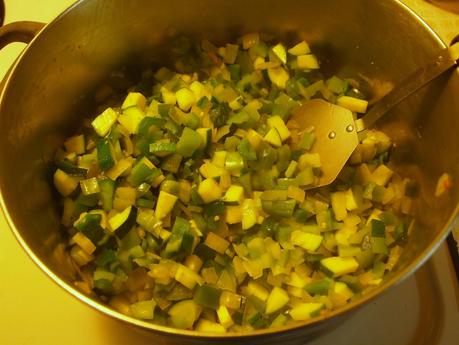 3) Add the turkey back to the pot and then add the black beans and frozen corn.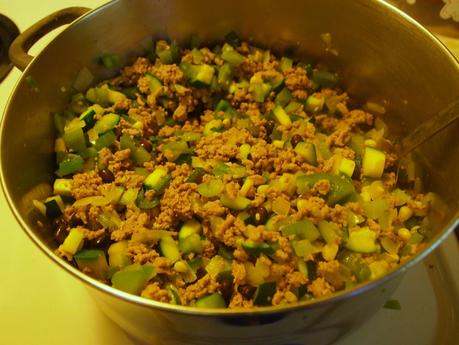 4) Add the two cans of roasted tomatoes and all your spices to the pot. Season with salt and pepper to taste. Stir everything so that it is well combined then move into the pot of your slow cooker.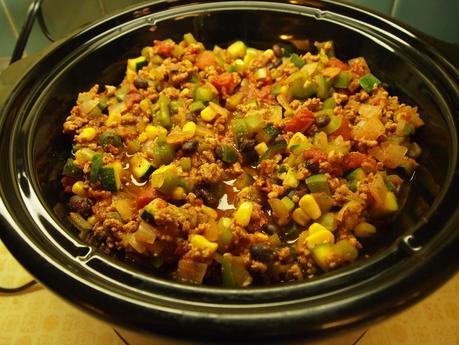 5) Cook the chili on high for 3-4 hours or low for 5-6 hours. Then serve and enjoy!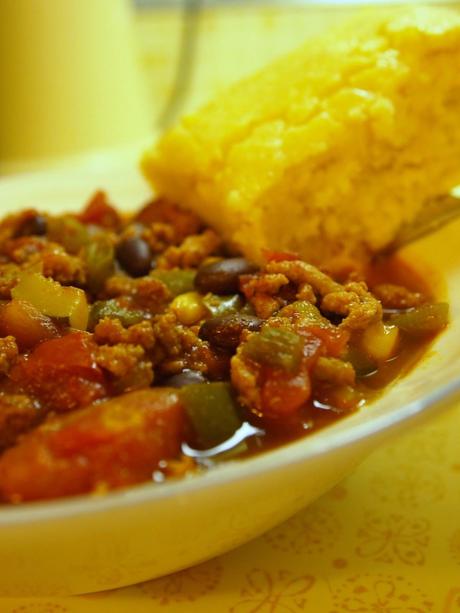 You can serve this with a nice slice of warm cornbread, tortilla chips, diced avocado, shredded cheese or some sour cream. Or you can do all of the above!