Cross Posted from EcoWatch
More than 150 people packed the Town of Reading Court in New York on April 17 to witness what they believe is a shocking miscarriage of justice.
Three members of a group dubbed the "Seneca Lake 12"—massage therapist Melissa Chipman of Schuyler County, farm owner Michael Dineen of Seneca County and Sandra Steingraber, PhD, author, biologist and distinguished scholar at Ithaca College—were sentenced to jail terms for their resistance to the heavy industrialization of the peaceful rural region they call home.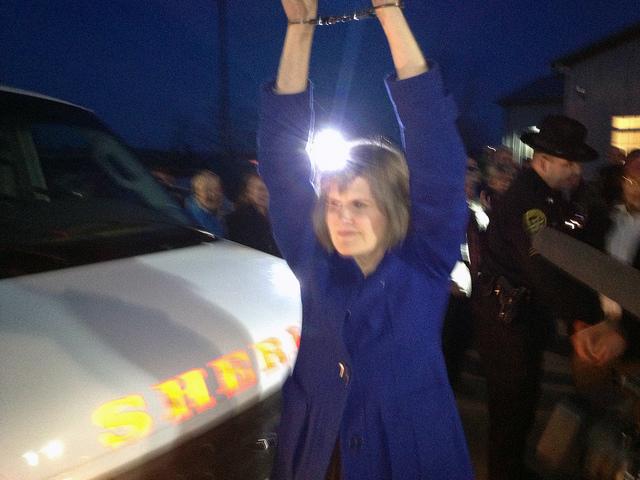 "What has happened to civil society?" asked a stunned Helen Savich when she saw her hero Sandra Steingraber hauled off to jail.
On March 18, Steingraber and 10 fellow residents of the Seneca Lake region, in a peaceful act of civil disobedience, blockaded the gate of a gas compressor station run by Missouri-based Inergy, LLP, on Seneca Lake. They were protesting their opposition to Inergy's planned heavy industrialization of the Finger Lakes region, renowned for its natural beauty, vineyards, tourism and agriculture-based economy. All 11 protesters, along with a legal liaison, were arrested and charged with trespassing.
Inergy's gas storage and transportation project in the Town of Reading, right on Seneca Lake, threatens the water supply for 100,000 people.
On April 17, Judge Raymond Berry of the Town of Reading imposed a fine of $375 for trespassing for Chipman, Dineen and Steingraber, the three people appearing that evening. All three refused to pay (their statements are attached), and the judge ordered that each spend 15 days in jail.
"I think this is an unusually harsh sentence," said Maura Stephens of the Coalition to Protect New York, "as it forces working people to give up income, lose time working on the land in this critical springtime, and sacrifice time with their families."
Supporters of the defendants were shocked at the judgment, and concerned for the health and safety of their friends being sentenced to jail.
"Sandra was sobbing and hugging her family and us in that room off the hallway," said Jan Quarles, wife of Michael Dineen. "I've never seen Sandra break down like that before, and I've known her for a very long time."
Dr. Steingraber is respected worldwide for her scientific knowledge, eloquence and commitment to everyone's right to clean water, air and secure food supply.
"If even someone of Sandra's stature and fame can be thrown into jail because of her reasonable and deeply held convictions, can there be justice for any one of us?" asked Jack Ossont, a fellow Seneca Lake 12 protester who had appeared in court two weeks earlier with two fellow defendants. Ossont and others paid their imposed $375 fine with the help of community supporters.
Steingraber, Dineen and Chipman are in jail now, but fellow activists will be holding vigils each evening from 6 – 8 p.m. at their places of incarceration. The vigils will continue until they are released.
Steingraber was a featured guest on PBS's Moyers & Company:
Quotes from the Seneca Lake 12:
"I would rather eat bread and water now than have no bread and toxic water later!"  —Melissa Chipman, Hector, NY
"This is a sacred place, with sacred stories to be kept preserved. It's not for Inergy to come and dig up the landscape and store more poisons in old, unsafe salt caverns."  —Margie Rogers, Elmira, NY
"We cannot put our trust, our health or our economy's future in the hands of a company that is indifferent to its impact on the health and welfare of a region such as the Heart of the Finger Lakes."  —Jim Borra, Hector, NY
"The Seneca Lake 12 are the salt of the earth; a growing community that believes the Inergy Corporation gas storage project is a suicidal course, not the renewable energy future essential to the survival of our children and theirs."  —Jack Ossont, Himrod, NY
"I do not take this step lightly. My wife and I have a small farm in Seneca County. We grow organic grains and maintain a large garden we use to feed our and our daughter's families. Our garden is irrigated with lake water. I believe the Inergy gas storage complex will, at best, damage the community, and has the potential to do catastrophic damage. Important information has been kept from the public with the DEC's cooperation. I do this to attempt to protect the community when all other means have failed. I blocked the entrance to the Inergy gas storage facility because I believe that the institutions who, by law and purpose, are required to protect the people and the environment from harm can no longer be relied on to do so."  —Michael Dineen, Ovid, NY
Sandra Steingraber's prepared statement:
Your Honor, I am not a lawyer. I am a biologist and a human being. I am also a mother of a 14-year-old and an 11-year-old. I bring all these identities to your courtroom tonight.
I am guilty of an act of trespass. On March 18, I willfully stood on private property owned by the Inergy company and blocked access to a compressor station site that is being constructed in order to prepare explosive hydrocarbon gases, propane and butane, for storage in abandoned salt caverns that are located beside and beneath Seneca Lake.
In my field of environmental health, the word trespass has meaning. Toxic trespass refers to involuntary human exposure to a chemical or other pollutant. It is a contamination without consent. It is my belief, as a biologist, that Inergy is guilty of toxic trespass. Inergy has been out of compliance with EPA regulations every quarter for the past three years. In spite of this, Inergy applied for, and has received, from the state of New York a permit to discharge, every day, an additional 44,000 pounds of chloride into Seneca Lake.That's 22 tons a day. That's 8000 tons a year. Seneca Lake is a source of drinking water for 100,000 people. Those industrial discharges trespass into the bodies of those who drink it.
Additionally, Inergy's planned 60-foot flare stack will release hazardous air pollutants, including ozone precursors, as will the fleets of diesel trucks hauling propane. This kind of air pollution is linked to heart attack and stroke risk, preterm birth, and asthma in children. Thus does Inergy trespass into our air and lungs. I see this as a real danger to my 11-year-old son, who has a history of asthma. We live 15 miles to the east—directly downwind—from this facility.
Inergy's plans to industrialize the lakeshore will bring 24/7 light and noise pollution into a tranquil community. These forms of trespass also have health consequences, including increased risk for breast cancer and elevated blood pressure.
And because Inergy is building out infrastructure for the storage and transportation of greenhouse gases obtained by fracturing shale, Inergy trespasses into our climate and contributes to its ongoing destablization at a time when the best science show us that we need to be rapidly moving away from fossil fuels of all kinds.
Lastly, the risk of catastrophic accidents from the storage of liquefied petroleum gases in salt caverns is real. It has happened in at least 10 previous occasions. The 14-acre sinkhole in Belle Rose, Louisiana, which is now making headlines, was caused by a collapsed salt cavern. It sent crude oil gushing up into surface water and natural gas into groundwater.
As a biologist, I have submitted expert comments and petitions about Inergy's application for permits to both the New York Department of Environmental Conservation and the Federal Energy Regulatory Commission. However, I am hampered in my efforts to judge the structural soundness of the salt caverns because the company that owns them insists that the scientific research that documents the history of these caverns—at least one of which sits on a fault line—is a trade secret.
Your honor, how can geological history become proprietary information? Without access to data, how can any member of the public evaluate the risks we are being compelled to endure by the repurposing of salt caverns into giant underground cigarette lighters?
In closing, my actions were taken to protest the trespass of Inergy into our air, water, bodies, safety, and security. My small, peaceful act of trespass was intended to prevent a much larger, and possibly violent one.
The people of Bellrose, Lousiana, are now facing relocation after the catastrophic collapse of the salt cavern there. Family homes are being abandoned. And the signs on the front lawns of the empty houses read, "No trespassing."
To bring attention to such hazards for the Finger Lakes—and for the act of protecting water, which is life itself—I trespassed. It was an act of civil disobedience. For that, and because I have deep respect for the rule of law, which Inergy company does not, I am willing to go to jail.
Visit EcoWatch's FRACKING page for more related news on this topic.