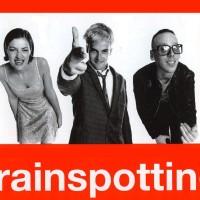 Movie: Trainspotting
Director: Danny Boyle
Cast: Ewan McGregor, Ewen Bremner, Johnny Lee Miller, Kevin McKidd and Rober Carlyle
Trainspotting, a 1996 British satirical/drama directed by Danny Boyle, is based on the novel of the same name by Irvine Welsh. The film follows a group of heroin addicts in a 1980s, economically depressed Edinburgh.
The film is essentially a look into the morbid, yet colourful world of a group of junkies, with a coming-of-age twist. The scope for analysis in this movie is aplenty, with each character to study at depth. Each character has a set of traits, quirks and a back story that I found interesting. Also, the film has a profound psychological impact on the viewer, due to the bond that one forms with the characters.
The central character, Renton essayed brilliantly by Ewan McGregor, is somewhat repulsive to relate to at the beginning. But one is drawn to his story, in spite of his conflicting views and attitude towards the most basic facets of life. In fact, all the characters (special mention to Robert Carlyle for the visibly bipolar and menacing Begbie he plays) seem somewhat oblivious, yet intriguing, since none of them are portrayed to be two-dimensional.
The societal consequences of drug abuse are not preached, but presented for the viewers to see. This helps for interpretation of the issue by the audience. The director also employs voiceover as a tool, which makes the story feel like the confession of a person with a messed up lifestyle.
The technical aspects of the film are also worth studying. Overall, the movie has a sharp pace that lends itself well to the narrative structure. Unconventional cinematography and editing techniques are used, which help in preserving and increasing the audiences' attention and involvement. The brilliant background score, which had given birth to a popular cultural trend in itself, has a lot to be analysed.
The Iggy Pop madness of the 1990s probably went global with this movie.  The juxtaposition of a lot of cheerful soundtracks against gloomy visuals, gives the drug induced setting, the perfect irony and black comedy that is required. Put simply, the score feels apt but one cant fathom why.
On a socio-political front, the movie is an original and honest commentary on a variety of issues, such as poverty, dehumanization, the healthcare system, etc. Also, the film starts on a rebellious note and stays that way throughout, with Renton, in a sense, mocking normal human ambitions and hopes.
It then ends on a happy note, with the same Renton seeking redemption and the path to a normal life — again a commentary on the sometimes vain nature of human rebellion.
This article was written by guest author Anandi Chandrasekhar