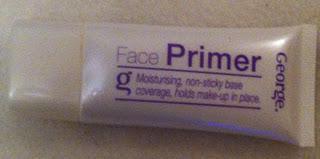 George Face Primer
Originally I was going to post a review of the George Primer however it really does not agree with my skin so I'm just going to outline my thoughts about it as I don't want to give a negative review when I'm not sure how it performs on skin that is less problematic than mine.
When I opened this primer and squeezed some onto my hand all I got was a hand full of a clear, oily looking substance. After a good shake and a few applications this improved but this primer is very oily. The primer appears tinted but when applied to the skin it does not provide any extra coverage.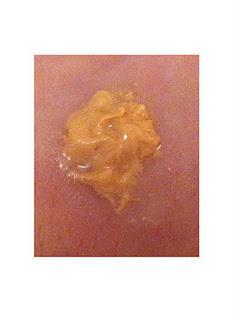 George Face Primer.
You can see how oily it is.
On application the product is super moisturising but again it feels quite oily and takes a little time to settle. I have very dry skin and so love a strong moisturising product and after a days wear my skin did feel very soft. However the heaviness of the primer made my skin breakout. I am prone to spots and usually have one or two in the chin area most of the time but after using this for three days my skin broke out worse than it has in years with very painful and big spots. After this I decided to give the primer a break and my skin has gone back down again.
In terms of the product I'm not convinced the George Primer extended my wearing time by much and the appearance of my makeup did not improve. I am not a fan of this primer, however I do think my skin type is a contributing factor to this and I suspect that this is not a bad product on skin that can handle such a product. I'd love to know if anyone else has tried the George Primer? What did you think?