by Jason Bittel / On Earth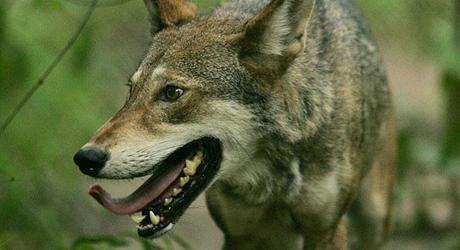 Photo: U.S. Fish and Wildlife Service
Authorities in North Carolina say they discovered another dead red wolf this week, apparently killed by a gunshot wound. Another is suspected dead, too, but wildlife officials were only able to recover its collar, which appears to have been cut off the animal. This marks four dead wolves since the beginning of October, and eight total killed this year.
Those numbers may not sound like much until you consider that there are only 90 to 100 wild red wolves left in existence. Living in northeastern North Carolina, this last handful of wolves (which were nearly wiped out by government-sanctioned hunting) is the result of an intense U.S. Fish and Wildlife Service reintroduction effort that began in Alligator River National Wildlife Refuge in the 1980s.
"Nearly 10 percent of red wolves living in the wild have been killed by poachers this year, putting the species on the fast track to extinction," said Brett Hartl with the Center for Biological Diversity in a press release. "The actions of a few ignorant, misguided criminals have severely crippled the recovery of one of the rarest animals in the United States."
As a result of the most recent spate of killings, the Center for Biological Diversity has doubled its donation to the bounty pool for information leading to an arrest, bringing its total contribution to $10,000. The U.S. Fish and Wildlife Service, North Carolina Wildlife Federation, and the Humane Society of the United States have all also kicked in funds to bring the grand total to $26,000.
It's unclear whether the killings have been intentional or accidental. (The USFWS refuses to speculate on an open investigation.) But in July, the North Carolina Wildlife Resource Commission authorized coyote hunting in the Red Wolf Recovery Area—including night hunting by spotlight—and it's thought that hunters may be mistaking the red wolves for coyotes.
In fact, five of the wolves killed since 2012 were reported to the authorities by hunters admitting their mistake. This is why groups like the Red Wolf Coalition have petitioned the government to ban coyote hunting within the recovery area. "These new deaths are devastating to the population," Kim Wheeler, the coalition's executive director, told me this morning. "At this point every animal is critical to the recovery."
The U.S. government has spent many years trying to bring red wolves back from the brink of extinction—and if the killings don't stop, it will all have been for nothing.
Anyone with information on the red wolf deaths can contact USFWS Resident Agent in Charge John Elofson at (404) 763-7959, Refuge Officer Frank Simms at (252) 216-7504, or N.C.Wildlife Resources Commission Officer Robert Wayne at (252) 216-8225.